Busch & Mueller: Luxos B & Luxos U dynamo koplampen
Introductie
Op de hoofdpagina schreef ik:
B&M Luxos: Ik heb een Luxos-B en een Luxos-U besteld die ca. midden december - begin januari binnen komen. Ik ben benieuwd, deze zien er goed uit op B&M's plaatjes, maar ik verwacht eigenlijk dat ze tegen zullen vallen... Ik zie bv. wat ongelijkmatigheden in de lichtbundel op de plaatjes van B&M, die gezien mijn ervaringen met de Cyo RT in werkelijkheid sterker zullen opvallen. Verder zal B&M als ze echt een grote verbetering willen maken om StVZO heen moeten werken zoals ik er voorbeelden van heb gegeven. Of ze dat doen/kunnen, valt nog te bezien. Let wel dat een lux waarde alleen niets zegt over hoe goed een lamp is, en de lichtopbrengst van LEDs is ook niet zodanig gestegen dat je veel extra licht zult krijgen. Er zal zeker meer licht uitkomen dan bij de Cyo 60, en het beste is dat te gebruiken voor een bredere lichtbundel, breder dan de huidige Cyo, Edelux, en evt. de Philips Saferide 60, want om de ervaren intensiteit van de lichtbundel te vergroten is veel meer licht nodig omdat de ogen logaritmisch werken. Hij moet ook een gelijkmatige lichtverdeling hebben, een groot zwak punt in vele koplampen, en of hij duidelijk beter is dan de genoemde lampen (wat nodig is voor de prijs die B&M voor deze lamp vraagt, hoewel je dit dan weer niet geldt voor de U variant met USB uitgang), betwijfel ik. Maar we zullen zien...
Beoordeling
Getest: Luxos B: Sinds 19 dec. 2012.
Specificaties, Luxos B:
Massa: ca. 153g met lamphaak en kabel (ca. 2m, je kan hier ca. 15g vanaf trekken als je de kabel inkort tot ca. 70cm), en 162g met reflector (idem).
Grootte: breedte: ca. 60,7 mm, hoogte: ca. 69 mm, lengte ca. 81,8 mm.
Montage breedte: ca. 10,5 mm
LED: Cree type? TXT-E? XP-E?. De LED lichtkleur is koel-wit. Neutraal wit zou veel beter zijn.
Aan/uit: Knop aan de achterkant, er zit ook een status LED in. Je ziet na een rit dus waar de knop is, om de lamp uit te doen, wat ook het standlicht uitschakelt.
Prijs: € 120,-
Plaatjes: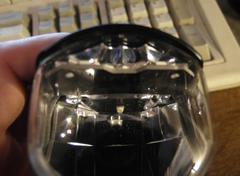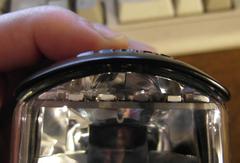 Zie ook de pagina over fietslamp grootte voor vergelijkingsplaatjes met ander koplampen.
Ervaringen
Nog te vertalen naar NL.
2012-12-19 evening: First ride with the Luxos B on road 1 shows the cutoff is very sharp, as it should be when using a LED that doesn't have a huge emitting surface (Cree XT-E?) and quite a large reflector. In the middle is a strong hotspot, or perhaps hotcone, which is distracting. The evenness of the beam (on the road) is still nowhere near the quality of the Philips LED bike light/Saferide 80 battery lamp. The intensity of the beam outside that hotspot is a bit too low. The beam is pretty wide and nicely lights up the road I tried it on including the green on the left/right, though at not enough intensity compared to the hotspot. The daylight lights are again of the variety 'visibility by being annoying to all other road users', that B&M seems to like. Not even a diffuser by making the lens slightly less transparant at the top where the 4 daylight LEDs are located, though the light is being reflected and this is better than direct light from a LED... The light colour of those DRL LEDs is thankfully white and not blue/purple as with the awful Cyo RT that I tested. I can only see about 40-45 m with it (on the road surface), this is not better than the Saferide 60 nor Edelux
To give a better view of how good the lamp is I will do a comparison while riding, using switchbox v2, with a few headlamps, very soon.
My prediction was spot on about the unevenness in the beam, and that nothing miraculous could be expected due to the 2.4W power restriction demanded by StVZO...
2012-12-20, test ride at from 2:40-3:00 at night on road 3 comparing it with the Saferide 60 shows that the hotspot doesn't stand out as much here (I think because the road is narrower and it's less noticeable on the reddish road surface) and the weaker beam outside the main cone also doesn't stand out in being weaker as much as it did on road 1. I would say the beam is comparable to the Saferide 60, with the beam having a far stricter cutoff which is good so it will be aimed correctly too, and the beam starts very close to the front wheel which is also good. The light colour looks slightly worse (cooler) than the Saferide 60. All in all I would say, at this moment (note it's very early in the review, so my conclusion is not finished yet) is that for the extra money, the Luxos B doesn't add anything really worthwile over a Saferide 60.
I made a video comparing the Luxos B and Saferide 60, starting with the Saferide 60, then the 2nd half with the Luxos B. When viewing this video you need to take into account that the Saferide 60 was mounted at ca. 1.00m, the Luxos at 0.75m. This means the intensity in the near field of the Saferide 60 is dimmer than if it was mounted at 0.75m, and the gap between bike and light beam is also bigger than if the Saferide 60 were mounted at 0.75m, see the main lighting page for more on this effect of changing beam shape/intensity related to mounting height. But a proper comparison with both lamps mounted at the same height and switching while riding will come soon. It was also very windy, so lots of noise in the video. And finally the lamps were both not yet optimally angled, but it was just a quick video to show both lamps.

Video: 2012-12-20--Samsung_EX1--Philips_Saferide_60_vs_BM_Luxos_B (32 MB)

Stills from the video (1: Start, 2: Philips Saferide 60 with mounting height of ca. 1.00m, 3: Luxos B):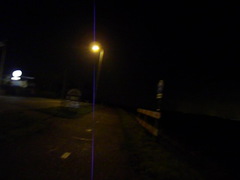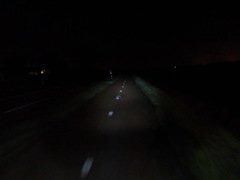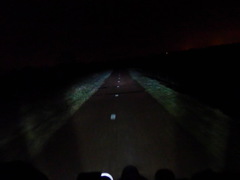 The video seems fairly dark, so when playing the video set the brightness such that it's brighter than the stills so and that you can clearly see the reddish sky on the righ, and you will get some idea of the real illumination (for someone with normal night vision).
The hotspot is quite noticeable in the video, more so than I experienced it when riding. Also the Luxos looks to have a far wider illumination which I don't experience when riding, I felt on this short ride at least, that the lamps are not that different, but it certainly shows that the luxos puts a lot of light in making the beam wide. This difference between camera view and experience is caused by limitations in cameras (dynamic range) compared to the human eye...
Because of its very strict cutoff you can angle the headlamp such that you will not blind oncoming traffic and still light up fences on the side of the road at 70m or more. This is quite good, also for curves. Note that the road surface is not illuminated any better than the Saferide 60. You can only properly see the road surface for about 40-45 m with it. This shows that a lot of improvement is still possible in dynamo lighting (when going around StVZO's 2.4W power requirement), as with the Philips-LBL+dynamo driver I have a stronger and more even beam that lights up the road at least 70m, with even more light than the original battery version (about 330 lumen vs. 270 lumen).
At this point I feel the biggest issue with the Luxos is the strong hotspot. I will be riding a lot more with it the coming time, so more experiences to come.
2012-12-24, night: Flickering at low speed (5-7 km/h) when starting a ride is significant, much more so than with the Saferide 60. On road 2, so a wider road with ditches next to it and farmers' fields beside it. I tested the Luxos against the Saferide 60 again and my conclusions haven't changed. The beam is wider at large distance but there it gets pretty weak and thus not useful enough. At short distance the beam looks wider than the Saferide 60's beam, but due to the fact that the intensity of the Saferide's beam drops off more gracefuly instead of sharply, and that it doesn't have a hot spot/section to which you eyes will adjust, the Saferide 60 is in actual use, even though it will probably look worse on beamshots (yet to be made), just as good. The hot section is perhaps 1.5 m wide, starts at ca. 12 m and ends at ca. 25 m. I also rode from a little hill, thought 'Wow, the Luxos lights up everything up to long distance', so to verify I rode back, switched to the Saferide 60, and it did exactly the same thing. Comparing beam shape, the Saferide 60's beam is more even, more pleasant. Finally on another road with fairly good asphalt which was partially wet I compared the way you can identify the road surface and wet spots (see also my page on experiments with LEDs about this issue, as wet spots look like some types of asphalt-repairs when using cool white light) and the Saferide 60 was better. This was to be expected though the Saferide 60 still has a far too cool light colour.
2012-12-25, night: Test on a meandering piece of road showed that the Luxos B is barely better than the Saferide 60. Especially the fact that the beam of the Luxos B is only wide at distances of ca. 20m or more, means that you still feel you're going blind into bends. I made a video that I will upload. The Luxos U has more near-field light apparantly, as per B&M's beamshot on their website which doesn't correspond to the Luxos B in the near field, so it must be the U version.
4-1-2012: Ride in the rain, comparing the H-one S to the Luxos B and a torch that I modified with a neutral white XP-G LED (colour 5B1, not yet optimal, something like 4C is better):
The first section of the beam, that I think is too high intensity compared to the rest, stands out very well in the rain, it does not disappear. If only the rest of the beam could be made this bright the lamp would be fantastic. I then switched to the Luxos B and there was a big problem with it: The near field in case of rain is very much overexposed because you see almost nothing from the rest of the beam and thus you only see the light close which will remain better to see because of the angles, which makes the problem worse. [ Btw., in my own reflector design in December I chose light to start at 3 m from the lamp, and at reduced intensity there compared to ca. 15m and further... ] So in the rain the neutral white colour of the H-one S kicked ass, and the artefacts and overexposure of the Luxos-B close to the bike are very annoying such that you see very little with it. Especially problematic with glasses and raindrops on it, I felt I was almost blinded by the Luxos B. Comparing the H-one S with the torch: The torch is clearly better in the garden at close range, at larger distance the difference becomes less, but there is some difference such as the grass with water on it looks whiter with the H-one S than with the torch.
Conclusie, voorlopig
Luxos B: Strong hot section from ca. 12-25 m which makes the rest of the beam look darker than it really is (because your eyes adjust to the hotspot). Cutoff is very strict which is good at larger distance so you will aim the lamp correctly for oncoming traffic, and with it you can light up fences without blinding other cyclists (very hard with the Saferide 60), but the cutoff is also strict to a weaker part of the beam beam close to the rider (see the beam shot) which is not so good. Light colour is too cool, inferior to the Saferide 60. Beam shape is not better than the Saferide 60 which is more pleasant due to being more even and the beam colour is slightly better. It has auto on/off and for people who want daytime lights, it has those too. On winding roads it's not really better than the Saferide 60. This means that my original view hasn't changed, and that though the Luxos B looks better on video/beamshots, due to the way the eye works it's not really better. So whether this lamp is worth the extra money over a Saferide 60 depends on how you value the daytime lights and the auto on/off. I will add a bit from the rain ride experience described above...
Luxos U
Tested: Luxos U: From 18 Dec. 2012.
Luxos U: Experiences to follow... Its value is probably mainly in the USB power output. This makes it worth buying even if the beam shape is not really better than that of the Saferide 60 (yet to be determined of course, as the U has panorama near field light and a 90 lux high mode). Early models had lots of problems so B&M delayed further distribution and a revised model was finally made available since early April 2013.
Last modified: Fri Apr 19 05:59:04 CEST 2013