Modificatie
Deze pagina moet nog gedeeltelijk naar NL vertaald worden.
Verandering van de breedte van de bevestiging naar 10 mm zodat een standaard lamphaak gebruikt kan worden. Dit deed ik met een mini slijpschijf: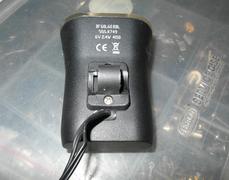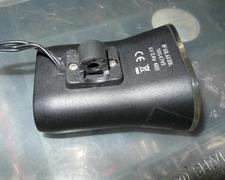 Om de lamp weer totaal waterdicht te maken moet je de houder nu vullen met siliconen of misschien 2 componentenlijm.
I also took off the retro-reflector which is glued together with the rear part so you need to put in a screwdriver and just force it off. It will not come off completely undamaged but you could glue it back together if you want. The retro-reflector part was undamaged.


See further pictures of this mounting board on my multiple headlamp mount page.
Fietskoplamp Philips Saferide 60 uitelkaar gehaald
Ik opende de behuizing met een metaalzaag: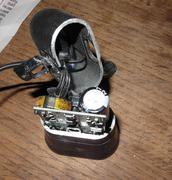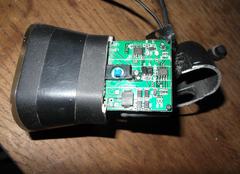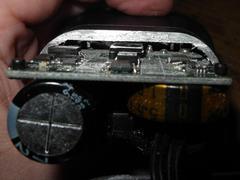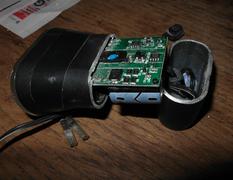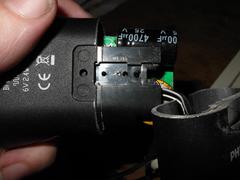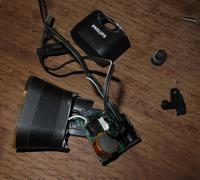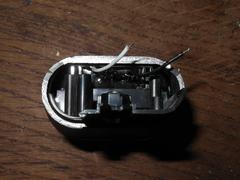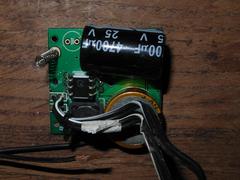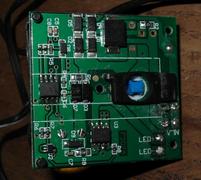 The housing is completely full, with some electronics, the on/off switch, standlight capacitor, 4700µF smoothing capacitor, cable strain relief and on top a piece of plastic with springs that push against the bottom plastic with the PCB (the PCB has some plastic pins to prevent it making contact with the housing) which make it such that the electronics are always tight within the housing even though they are simply pushed in with the lens/front glass assembly. There are a few (stainless? need to check) mini nylock nuts held in the plastic into which the bolts for the mount on the bottom are screwed. I had to saw a bit more off the top to be able to get at 2 screws on top for some more disassembly, but for even more disassembly and removal of the plastic stuff that you still see would require further cutting of the housing. I kept it because now I can still screw on the mount on the bottom.

I think the method of the springs with plastic holder which pushes on the housing on one side and the PCB with a few plastic spacers on the other side, is rather a complicated system. I would much prefer a housing that can be properly opened and which has some mounts for screws so a PCB can be bolted onto it. This would make the lamp user serviceable and would not require such a complicated design.
Dissection of a Philips Saferide 60 or Pedelec bicycle headlamp by removing the lens
This can be done by taking a sharp kitchen knife, see the pictures for a knife type that works well: The sharp edge means you can stick it in the slight opening between aluminium housing and plastic lens, the knife getting wider means you're driving a wedge between them. By working your way around the lens you can get it loose, then take out the reflector with fixed LEDs, then the electronics etc. I have made pictures doing this with a defective Pedelec 80 headlamp that I disassembled this way. This keeps the housing intact but the LEDs come loose from it so the LED pcb needs to be fixed with thermal glue after that, or use the separate piece of plastic again onto which the driver is fastened to press them in place. I experimented a bit and the cutoff was not as sharp as originally, when the LEDs were pushed up more by the reflector which was pushed up by the separate piece + driver in the original lamp (automatically, because of its construction, similar to the Saferide 60).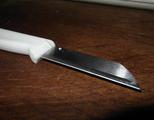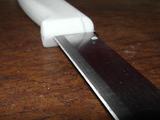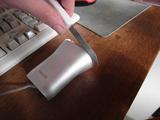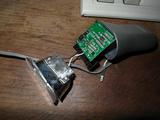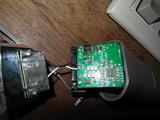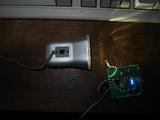 Note that this method did not work for me on the Saferide 40-battery. This is because the housing of that lamp is made from plastic. With metal housing, the knife uses the housing to press away the lens and this doesn't work in that case due to the deformation of the plastic.
De Philips Saferide 60 met de driver van de LBL aansturen
De reden hiervan was dat ik las dat iemand op een Duits forum voor ligfietsen (of was het er een voor pedelecs?) aan de SLD de voorkeur gaf boven de LBL bij aansluiten op gelijkspanning van 7,85V (de SLD kan met maximaal ca. 8,0V gebruikt worden, daarboven kan hij kapot gaan). Dat heb ik ook getest met een spanningsbron waarvan ik de spanning kan varieren, en toen richtte ik de lamp op de muur om hem met de LBL te vergelijken. De SLD-7,85V lijkt dan feller aan de boven-middenkant van de lichtbundel, dus mischien is hij feller op grote afstand. Om goed te testen in welk opzicht de lichtbundel van de SLD beter is dan van de LBL dient de volgende modificatie om de LEDs in de LBL en de SLD met gelijke stroom aan te sturen: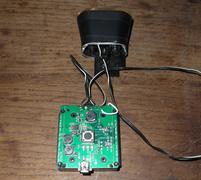 Ik ga ook een h6flex gebruiken om de lamp op ca. 1A aan te sturen...
Weg 1, 2012-01-02
Tamelijk harde wind, wat het precieze richten van de lampen wat moeilijk maakte... Camera instellingen: F3.4, ISO80, sluitertijd 4s of 8s.
Plaatjes van de lichtbundel op weg 1: Camera hoogte: ca. 1,65 m, camera mikpunt: 2e markering op 50m, positie: ca. 1m achter de lamp. Markeringen op 25,50,75m.

Philips LED bike light standaard (ILED=0,70A)
1,05m, 4s


1,05m, 8s



Philips LED bike light met h6flex (ILED=0,92A)
1,05m, 4s


1.05m, 8s



Philips Saferide 60 gemodificeerd met de driver van de LBL (ILED=0,70A)
1,05m, 4s


1,05m, 8s


De SLD en LBL zijn niet precies gelijk gericht, dus ik zou eigenlijk de plaatjes opnieuw moeten maken, maar de SLD-0,70 A lijkt inderdaad wat sterker op grote afstand dan de LBL die het licht gebruikt om een gelijkmatigere en bredere lichtbundel te maken (vooral dichtbij de fiets). De lichte overbelichting van de weg dichtbij de fietser die de SLD heeft blijf je natuurlijk houden, maar monteren op stuurhoogte vermindert dit al. De lichtbundel van de SLD is vooral minder goed dichtbij de fiets en ik moet een testrit maken met beide lampen op een fiets om de SLD-0,70A vs. LBL-0,70A goed te kunnen vergelijken.
Een rit op weg 4 (donker glad asfalt, weg met auto's ernaast) met de LBL en SLD-0,70A liet zien dat er niet veel verschil is. De SLD-0,70A heeft misschien wel iets meer licht op 50-70m maar het scheelt niet genoeg om de voorkeur aan de 'opgevoerde' SLD te geven, integendeel, de andere nadelen van de SLD blijven, i.h.b. dat de lichtbundel minder gelijkmatig is en minder breed/goed vooral dichtbij de fiets.
Ik ga ter controle nog een andere rit maken op een volledig donkere weg.
Last modified: Sun Dec 9 04:09:13 CET 2012