Herrmans H-diver
Getest: Sinds 10 feb. 2012
Specificaties:
Massa: ca. 42 g voor de lampkop + kabel, ca. 66 g met RVS lamphaak/bout/moer, en 75 g met de retro-reflector.
Grootte: breedte: ca. 49 mm, hoogte: ca. 53 mm (zonder het uitstekende deel voor de lamphaak), lengte ca. 48 mm.
LED: ?
Montage breedte: 12mm (dit is niet standaard), of ca. 22mm met het plastic opzetstuk voor de houder voor montage op een Suntour vork.
Aan/uit: Automatisch, maar er is ook een versie voor gewone dynamo's (altijd aan).
Standlicht: Niet bij de lamp die ik testte, maar er is ook een versie met standlicht.
Prijs: ca. € 34,- versie met standlicht ca. €40,-, versie voor gewone dynamo (altijd aan) ca. €28,-
Plaatjes:
Ervaringen:
De H-diver heeft een behuizing die vergelijkbaar in vorm is met de Edelux, en de retroreflector die je er op kunt monteren doet de de lamp nog meer op de Edelux lijken, die al een tijd met een extra reflector geleverd wordt (de exemplaren die ik in 2008-2009 kocht niet), die ik er vreemd uit vind zien, het geeft me het gevoel alsof het een farao is, met een lange baard ;-)
Nog te vertalen van EN:
Running it for the first time it's obvious how flickery the light is, much worse than any other dynamo headlamp I tried so far. Up to about 10-11km/h it flickers noticeably on the Shimano HB-NX70 28 pole dynamohub, at least on snow. A few more rides on normal road surfaces and looking at objects such as walls and cars onto which the light shines showed that you will see the flicker until ca. 9 km/h. This is a lot higher than the speeds at which the Edelux/Philips SLD appear flicker free. The lens on the front also lets light go upward directly into your eyes, much worse than the Trelock LS 885 and any of the Philips Saferides. From this you also keep seeing the flicker from the direct light from the lens up to ca. 11 km/h, so covering this up is necessary for that reason too. You see a bright spot coming from direct light from the LED whose position depends on the angle from which you look. Btw., how this works is similar to what happens in Philips' Lumiring taillamp with the view from the side, where this trait is actually useful.
The beam shape is pretty good. Some artefacts near the front wheel, which are not that bad, but it could be better as the large number of artefacts attract your attention on very dark roads. The beam begins not far from the front wheel (ca. 3m). I can see 30-35 m on an unlit road with it. The low lux rating certainly means not much of this lighting up of the road remains (visible) when confronted with a lot of stray light, esp. from headlamps from cars. Herrmans claims a reach of 20m, which could be the case in those situations.
Mounting hardware is all stainless steel, good. There's a separate plastic mount for Suntour forks. The stainless steel mounting bracket: Not great because you can't keep the bolt on the fork crown easily at the end, it tends to go up while tightening. The nuts should be nylock nuts, the one that goes in the plastic mount for suntour forks could be ok, the one for the stainless mount will probably vibrate loose. I used contact glue on the threads to prevent this.
I later tested the reach in case of a dark road with headlamps of cars on a parallel road shining into your eyes (road 4) I would say ca. 25 m.
23-2-2012: I noticed a crack in the top of the lamp. How did this happen? Not from an impact, there are no marks on it. The plastic just cracked. I assume it's a defective sample and dissect it after making a beamshot. I didn't intend to try another such lamp to check for build quality, but I guess I could do it as I will test a new version + a version with standlight (see end of the page for more on this).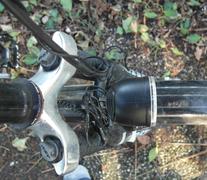 Auto on/off: This is set up quite well with respect to the brightness level at which the lamp goes on. It goes on at dusk and not on cloudy but bright days as my Edelux (the auto on/off of the Edelux is useless for that reason, you might as well leave it on 'ON' instead of auto). There is no delay in on/off which means it has a tendency to go on-off-on etc. at dusk. I even rode at about 20 km/h once and the brightness level was at the edge such that the lamp was flickering at high frequency. Not good. A bright light from the side will immediately switch off the headlamp and I have had this happen once from headlamps of a car on an intersection, very briefly.
Toevoeging 10-3-2012
Er werd me verteld dat de eerste serie H-Divers met auto aan/uit meer flikkert bij lage snelheden dan wat Herrmans zelf had willen zien, en dat ik waarschijnlijk een lamp uit die eerste serie heb. Blijkbaar hebben ze de lamp op dit punt aanzienlijk verbeterd. Die nieuwe versie en een exemplaar met standlicht zal ik nog gaan testen.
Toevoeging 3-4-2012
Ik heb een nieuwere versie van de H-diver getest, ditmaal de versie voor standaard dynamo's (lamp is altijd aan), en deze is minder flikkerig, maar nog steeds meer dan de Edelux en Philips SLD/Saferide 60.
Een versie met standlicht heb ik ook, ik ben benieuwd of die in dit opzicht beter is door de overschakeling naar standlicht.
Toevoeging 8-5-2012
Ik had een klein 'ongelukt' met 2 eenden (ja echt! :-)) op 2012-5-4: 's nachts, er liepen 3 eenden over de weg, en ze gingen niet opzij (misschien was de 3e eend een vrouwtje waar de andere 2 achternaliepen :)). Ik zag ze niet goed op tijd, hoewel ik niet snel reed (ca. 22 km/h), een ervan vloog toen tegen de koplamp terwijl hij op het laatste moment probeerde weg te komen.
Deze ervaring maakte duidelijk: De LED licht kleur MOET echt neutraal wit zijn, contrast is slecht met koel wit wat een factor was die ervoor zorgde dat ik ze zo laat opmerkte. Dit gebeurde op een parallele weg, met de koplampen van auto's op de andere weg die in mijn ogen schenen, en er waren lantaarns. Al met al zorgt dit ervoor dat de H-diver met zijn lage lux waarde weinig bereik heeft.
Nog meer dan een tijd geleden ben ik er van overtuigd dat koplampen een bereik van 45m of meer moeten hebben, en ze moeten een neutraal witte LED hebben anders kun je in situaties zoals bovenstaande komen.
Toevoeging 16-5-2012
Ik wilde ik de H-diver met standlicht installeren op een van mijn fietsen toen ik zag dat de lens (die vastgelijmd zit, wat ik merkte toen ik mijn eerste H-diver openmaakte, waarbij de behuizing in een andere plaats scheurde...), onderaan niet goed aansluit op de behuizing. Deze H-divers komen van een andere bron (niet de fabrikant overigens) dan de eerste H-diver, dus gezien dit alles en de behuizing die ik erg fragiel vind, ben ik niet zo gecharmeerd van deze lampen. Het lijkt er op dat er te veel bespaard is op de behuizing alsook de assemblage/kwaliteits beheersing.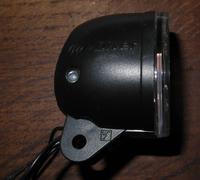 Toevoeging 25-5-2012
Ervaringen met de H-diver met standlicht: Flikkeren is niet minder dan van de versie zonder standlicht.
Sterkte van het standlicht: Ervaringen volgen nog.
Plaatjes van de lichtbundel:
Voor meer informatie over het maken van plaatjes van lichtbundels zie de pagina over camera instellingen/positie, lamp hoogte en gebruikte wegen.
Plaatjes moeten nog worden gemaakt...
Weg 2, camera hoogte: 1,65m, camera afstand: -0,40m, camera mikpunt: 50m op de weg.
---
Herrmans H-Diver
Lamp hoogte 0,75m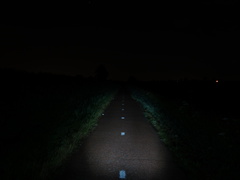 Voorlopige conclusie:
Beam shape is fairly good, reach is reasonable, comparable to a E3-pro-StvZO, the auto on/off works well (though has a tendency to go on-off-on etc. in the region where it switches on due to the fact it's got a fairly simple system, unlike for example the special dynamo driver which does a lot better). The flicker is awful, perhaps this is better with the version with standlight? There are a fair number of artefacts outside the beam near the bike, which are not too distracting but I'd like to see less of them. It lets a lot of light go to your eyes which is bad, you need to put some black sticky tape on top. Then the crack: Is it just a defect on this lamp or is there a problem with plastic used? I used the lamp in snowy and cold conditions while it was ca. -10°C but any lamp should be able to withstand that without trouble. All in all I'm not so fond of this lamp, it's cheap but also not very good in all respects except beam shape. For a budget buy it's probably one of the best headlamps out there, beating B&M's offerings in price while giving a better and stronger beam than the Cyo R. The H-diver shows that there are useful low priced headlamps, but also that really good headlamps cannot be bought cheaply, which is not to say that the top dynamo headlamps are fault free!
Although for a little while I was thinking that perhaps I was too strict in dismissing low lux rating headlamps (as per my criticism of Philips' 40 lux headlamps for example), due to the experience on 4 May my conclusion is back to what it was: Headlamps that properly illuminate up to about 45m are necesary in rural environments (which means only the Philips Saferide 60, Cyo 60, Edelux and possibly the coming Hermans H-one S), and headlamps with a low lux rating are mainly good for use in the city, but then you may as well use the lowest rating headlamp as you don't need much light there. So, low lux-rating headlamps can be used in rural environments but are not good enough to be really safe.
Last modified: Tue Feb 19 15:49:11 CET 2013