Supernova E3 pro, StVZO Version aus 2010, angeblich 305 lumen
Getestet: Vom 22. Dezember 2010 bis zum 25. Januar 2011. Diesen Scheinwerfer hatte ich geliehen bekommen...
N.B. Die Übersetzung ins Deutsch ist noch nicht fertig...
N.B. Diese Seite ist eine der Wenigen die ich auf Deutsch übersetzt habe. Ich überlege noch weitere zu Übersetzen, das kostet aber viel Zeit. Also, bitte melden Sie sich für irgenwelche andere Seiten die Sie auf Deutsch sehen möchten und die Chancen werden besser das ich es auch wirklich mache! (Fehlerfreies Deutsch garantiere ich nicht, ich habe die letzten Jahre meine Deutschkenntnisse zu wenig benutzt ;-) Besser als Google's Übersetzung wäre es aber jedenfalls, denn die ist grottenschlecht...)
Einführung
Eine asymmetrische Version des E3 war schon in 2007 angekundigt worden. Zu dieser Zeit sagte Supernova auf ihrer Webseite das die neue Leuchte die StVZO-gutachtung erhalten würde an einem bestimmten Datum, XXX. Eine Weile nach diesem Datum wurde dann die Webseite anngepasst mit einem neuen Datum wann die Leuchte die StVZO-gutachtung erhalten würde. Dieses Verhalten habe ich gesehen von etwa Ende 2007 bis Ende 2008 als ich öfters ihre Webseiten nachschaute, ob sich da schon was geändert hat, und die Leuchte mit asymmetrischem Lichtbild wirklich erhältlich war und ob sie endlich die Gutachtung bekommen hatte. Andere Leute waren nicht entzückt von diesem Verhalten, wie man z.B. im Bericht hier lesen kann (auf Englisch): Foolernova (candlepowerforums). Mit 'chronically and falsely implying that some product of theirs had reached some SVTO/L approved status, or was ready to ship "next week."' wird genau dieses Verhalten beschrieben und das man Produkte angeblich liefern konnte wenn das in Wirklichkeit nicht so war (wie ich Ende 2008 selber erfuhr).
---
In Oktober 2008 fragte ich Supernova ob sie mir einigen (um genau zu sein: 3) asymmetrische Scheinwerfer liefern konnten, ob sie nun die StVZO-zulassung haben oder nicht, um sie zu testen (und zu vergleichen mit dem Edelux) und sie zu verwenden auf selbst gebaute Fahrraeder. Wie ich schrieb auf der Hauptseite meiner Fahrradbeluchtungstests, wurde mir mehrmals gesagt das die Scheinwerfer 'nächste Woche' herrgestellt würden, aber es geschah nichts. Sie haben später nie Verbindung mit mir aufgenommen, und 8 Monate später, Mitte 2009, beschloß ich nicht mehr interessiert zu sein und in Zukunft keine Geschäfte mit Supernova zu machen. Ich bemerkte übrigens daß Supernova-Scheinwerfer auf manche Cannondale Fahrräder specifiziert wurden. Ich vermute also daß sie alles was sie produzieren konnten an Cannondale lieferten. Wenn das der Fall war, sollten sie mir das sagen und mir keine Märchen erzählen von 'nächster Woche'.
Hinterher gesehen war es vielleicht gut das ich diese frühe Ausführungen des E3 mit assymetrischer Linse nicht bekam, denn das Lichtbild war ziemlich chaotisch wie bemerkt im Test von Aktiv Radfahren, und das ein Radfahrer sogar als "batsignal" typierte in einem 'usenet group' (ein Bild davon finden Sie weiter auf dieser Seite).
Das Problem ist nicht nur das sie ihre Versprechen nicht einhielten, aber ihre ganze Einstellung, die sehr deutlich zu sehen ist dadurch was einer der da arbeitet (wahrscheinlich der selbe der mir versprach das die Scheinwerfer 'nächste Woche' hergestellt würden) auf dem IBC forum (mtb-news.de) so alles sagt. Mehr darüber können Sie am Ende dieser Seite lesen.
Dies alles ist der Grund das ich nicht mal versuchte mir einen Supernova Scheinwerfer zu beschaffen für einen Test (ich wollte keinen kaufen, aber ich war auch nicht interessiert in einem Leihgerät). Ich wollte eigentlich keinen Supernova Scheinwerfer testen. Ich wurde ein bisschen weniger streng in den letzten Monaten und auf der Hauptseite schrieb ich das ich eine Beurteilung eines Supernova-scheinwerfers machen würde, aber nur wenn ich einen geliehen bekäme. In Dezember wurde mir dann einen E3 triple-2009 und einen E3-pro-StVZO zum Leih angeboten. Deshalb also diese Seite :)
Das Folgende stand auf der Hauptseite meiner Beleuchtungstests, es wurde ab und zu etwas bearbeitet aber der Sinn hat sich nicht geändert seit 2008: (das Folgende auf English, wirde ich noch übersetzen)
Supernova E3 asymmetrical: The symmetrical beam version has been available for a few years (2007?) and at the time I was interested in them (2008) used the Seoul P4. The version with beam with cutoff at that time used a Cree XR-E Q5 and both versions were less bright than the Edelux, both in StVZO measurements (lux at 10 m in given position) and total light output (lumen). The beam pattern of the asymmetric version was pretty poor at that time, giving lots of artefacts resulting in what one person called 'the batsignal'.

Here the late-2008 versions of the Edelux and E3 are compared in beam pattern, and wall shot (from Aktiv Radfahren, issue 11/12 2008). Which one is the batsignal should be obvious :)

Note that Supernova upgrades the lamps with new LEDs regularly so currently (fall 2010) they use the Cree XP-E R3 and XP-G R5 (both in cool white). The asymmetric lens appears to be much better than in 2008-2009 judging from the beamshots on Supernova's website.
[ background from 2008-2009: As of mid 2009 I still hadn't received the lamps I wanted despite repeated assurances that "they will be made next week". In mid 2009, 8 months after requesting to buy a few E3 (asymmetric) lamps in October 2008, I had enough... I therefore have no intention of testing this lamp nor any others from this manufacturer. (well, perhaps if someone lends me one, but I'm definitely not going to buy one). Update December 2010: Well, I'm going to test Supernova products after all as I've got a E3-pro-StVZO on loan and should get an E3-triple on loan too. ].

---
Merkmale:
Masse: ca. 155 g. mit Lenkerhalter und Kabel zum Dynamo und zum Rückenlicht.
Größe: Breite: ca. 40,0 mm, Länge: ca. 65,3 mm (ohne den Schalter der etwa 4 mm weiter herausragt).
LED: Cree XP-E R3 kalt Weiß (Dieser Scheinwerfer ist auch erhältlich mit einer Cree XP-G R5. Diese Ausführung findet man nicht auf Supernova's Preisliste, aber es ist möglich sie zu bestellen im Webshop wie ich am 22. Dezember bemerkte. Die Ausführung mit XP-G hat aber keine StVZO Zulassung)
Bedrahtung: zweiadriges Kabel zum Dynamo, er hat keinen Masseanschluss. Des Weiteren ist noch ein zweites zweiadriges Kabel da für das Rückenlicht. Man muß selber die Stecker an dieses Kabel löten.
An/aus: Der Scheinwerfer hat einen Schalter am Hintern.
Preis: ca. €165,-
Bilder:
StVZO Kennzeichen: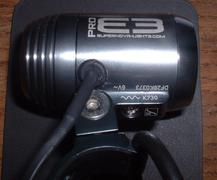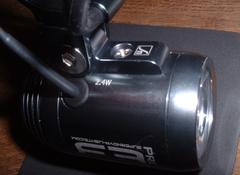 Die Linse hat eine tiefe Aussparung, in der ich sogar meinen Finger stecken kann. Was geschiet denn nach längerem Gebrauch? Das wieder sauber zu bekommen (z.B. nach einer oder mehreren Fahrten im Regen) wird schon etwas mühsam sein...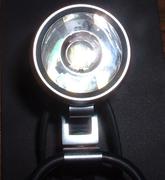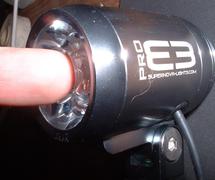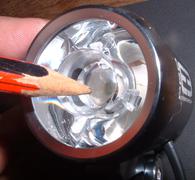 Erfahrungen:
Erste Eindrücke: Sieht sehr gut aus bezüglich Qualität und Präsentation.
I was very curious to see how it performed so in the evening I immediately went out testing. The button is fairly heavy going and in the cold it's not that easy to feel if you switched it or not. This is similar to the situation with the Philips Saferide LED dynamo, and the Edelux is definitely the best dynamo lamp in this respect with its sliding switch that you simply know (feel) the position of.
The beam pattern is as I first read in the review of the Airstream on bikeradar.com, i.e. it has some artefacts in it and the beam is not completely homogeneous, although they're not as bad as the bikeradar review makes it appear (but perhaps the artefacts become more apparent with the Airstream as the LED is likely driven at higher current in that lamp). At first this nonhomogeneity was inconspicuous in Supernova's own beamshots, but after reading that bikeradar review (which has a useless beamshot btw.) I checked the beamshot images from Supernova in more detail and indeed noticed what they talked about there. The artefacts and nonhomogeneity are hidden by the road and objects on it in Supernova's pictures. If you look closely at the pictures you will see: the beam is bright close to you, then on the left and right it's a bit darker and in the middle it's brighter again. I think you could envision the beam as 2 (flat) cones of light superimposed, the first a broad one, the second a hotspot. So it's actually a bit similar to the Magicshine MJ808 but of course without its huge amount of light going above the horizon.
Beamshots from Supernova's website of the E3-pro-StVZO (XP-E R3) and Airstream (XPG-R5), both with the same Terraflux lens: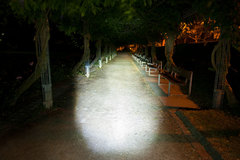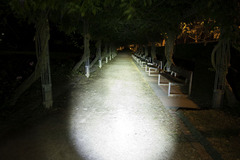 The bar mount is not great, well, actually it sucks, as the lamp will rotate a little around the handlebar when encountering bumps (my first testride was with sections of roads covered with lumpy compressed snow). For symmetric beams a precise adjustment is not necessary as my experiences with the Magicshine, Ktronik Triple XP-G and Lupine Betty showed. For an asymmetric beam where you want the cutoff precisely placed so you get a good throw and good illumination of the road surface, precise angle is critical. Therefore I would get a mount that can be fastened with bolts, not rubber bands.
Das Standlicht ist ziemlich schwach, und weil er kein Licht am Vorderrad 'schickt' (das Licht fängt etwa 2 meter vom Vorderrad an) bedeutet dies daß das Standlicht genau so wertlos wie das vom Edelux ist um das Fahrrad in einer unbeleuchteten Garage oder Gartenschuppen zu stellen.
The beam pattern is fairly good. There are some slight artefacts as I mentioned earlier, but they are not bad and not annoying/attention grabbing. The beam starts out fairly narrow, which is not as good as the Philips SLD that starts wide, and what is worse is that the beam diverges significantly at long distances which is of no use for riding on paved roads as it will light up far too much beside the road; this a pity as it just means wasted light (perhaps it is of use on winding/meandering roads, I will compare them more on such roads soon). This diverging beam of the Terraflux lens means brightness at long distances will never be very good so throw is almost certainly not going to rival the Philips LED bike light in the battery powered Airstream (which should power the LED at at least 1A, which it doesn't seem to do in the E3-pro). So, the beam pattern and throw are no match at all for a Philips LED bike light. The diverging beam pattern might be more useful for MTB riding, but there you don't want a beam with such a strict cutoff. Also, for MTB riding the beam is too narrow at the start. Perhaps for riding fast on not very straight roads (or better: meandering roads) is an application for such a diverging beam, however, as the beam strength is nowhere near that of the Philips LBL I just don't see the point. Perhaps with a 600 lumen lamp riding on meandering roads this beam pattern would be useful.
As I suspected, the comment by someone from Supernova that the Philips' light beam is "not bad at all, almost as good as that of the Airstream" can only be interpreted as taking the piss of the readers of the IBC forum (mtb-news.de). The beam is not as good as that of the Philips LBL (w.r.t. homogeneity and useful illumination of mostly straight roads) and throw is far less as well (in the dynamo version at least, but due to the diverging beam this is likely true for the Airstream as well). Illumination of the road surface is less even and at least in the dynamo version (the E3-pro-StVZO and the Airstream use the same lens) nowhere near as bright. There is no way in hell that the Supernova E3-pro StVZO reaches 305 lumen. All of the above more or less confirms what I estimated about the Airstream, as I wrote on my page with the review of the Philips LED bike light. See also further on this page.
Schaltsystem damit ich zwischen dynamoleuchten schalten kann waehrend des Fahrts
This setup is a bit messy and I will make a neat version soon, but the important thing is that it works. I've included an over-voltage protection device that comes with Shimano dynamo hubs, that I can switch on or off with the rightmost switch. The other switches switch on or off the 2 lamps to be tested, in these pictures it's the Philips SLD and the Supernova E3-pro-StVZO.
Results of switching between lamps (including having both on at the same time) gave a lot of information on the strengths and weaknesses of both beams. The weakness in the Philips lamp is too much light next to the front wheel. This diminishes your night vision (Btw., you can fix this by putting some 3M scotchlite tearable tape which is a little opaque, on the bottom left/right sections of the lens). Still, illumination of the road far ahead is very good. Weakness of the E3-pro-StVZO: beam flares out too much, and it's a bit weaker. I really noticed this by doing the following test:
Switching from Philips SLD to E3-pro-StVZO pro removes the near field light, and more light above the horizon in particular which you notice because suddenly you don't see the traffic signs or posts reflecting any more. The less bright illumination of the road surface by the E3-pro-StVZO doesn't jump out because getting less bright doesn't jump out (think about it).
Switching from the E3-pro-StVZO to the Philips SLD gives a jump in light output just about everywhere: More light gets back from traffic signs and posts with retro reflective material beside the road (this is not necessarily good, as I think the Philips lamps put out too much light above the horizon, but the E3-pro-StvZO pehraps puts out too litte above the horizon, maybe that was due to setting it slightly too low, I will do more tests), there's more light near the front wheel with the Philips lamp (too much so), more light at medium distances on the road, and far ahead it's brighter as well. The Supernova E3-pro-StVZO's diverging beam wastes too much light on the berm of road and beyond that, which could have been used to give more throw and more light at long distances on the road. This could only be of use for MTB riding, or perhaps for winding roads, but for MTB riding this lamp is not suited... (and I would say the beam starts off as too narrow for that purpose too).
I rode up to about 33 to 36 km/h several times to see if the E3-pro-StVZO would get a lot brighter but it didn't appear so. However, it was very windy and not fun riding fast even on a road where most of the snow was removed by a snow plough, and because of the road conditions (snow, ice, wet in various places) I had to pay a lot of attention to riding safely instead of the light beam, so I will try this again another night and look more closely at how the brightness changes with speed. It certainly didn't seem anywhere near the 305 lumen region as it would need to have an output higher than the Philips LBL then.
To come: Side by side comparison of the light beam with that of the Edelux (2008/2009 version)
More to come...
Das Lichtbild:
Für näheres an wie ich die Bilder mache, siehe: Kamera-einstellungenamera, Scheinwerfer-einstellungen und die Wege die ich benutzte um die Lichtbilder zu machen (diese Seite gibt es im Moment nur auf Englisch und Niederländisch).
On road 2 (rough asphalt)
Note: it was freezing, road surface was slightly wet before that so a very thin layer of ice/ice crystals formed. Because of that I made comparison pictures of a few more lamps in the beamshot session. Beamshots are not perfect, camera isn't perfectly aligned with the horizon as you can see, but hey, it was very cold and very windy :)
Location: Road 2, Camera height: 1.65 m, Settings: F3.5, ISO 80, 4s, Camera: Samsung ST70
Retroreflective markers on the left and right at 25,50,75 m. Small white sticks at 10 and 15 m on the virtual lines through the white dots.

| | |
| --- | --- |
| 0.75m E3 pro StVZO ziemlich nahe gerichtet | 0.75m E3 pro StVZO gericht fuer maximale Sichtweite |
| 0.75m Philips SLD (Herstellungsdatum 4010) | 0.75m Philips SLD (Herstellungsdatum 4610) |
| 0.75m E3 triple (sommer 2009, bewerbt mit 550 lumen), symmetric beam | 0.75m Fe Rei Fahrradlampe mit XP-G R5, symmetrische Ausleuchtung |
I set the camera to make 8 Mp pictures instead of 14Mp. The latter gives huge pictures but not much extra information as large pictures are somewhat blurry at the pixel level with my camera (as with almost all compact cameras).
The pictures don't show what I experience particularly well. It's clear that the E3-pro-StVZO has a slightly wider illumination than the Philips SLD. The throw is less than the Philips and I'd say and brightness too, but this doesn't come across well at all (you have to look closely to see this: don't get distracted by the brightness at the start of the beam). Simply judging from the pictures you may well think the E3-pro-StVZO is much brighter than the Philips SLD, and in reality it isn't... I will investigate further if light colour is an issue or if it's 'only' apparent due to the better near field illumination (from ca. 5m to 15m) of the E3-pro-StVZO combined with the icy road.
All pictures are quite dark compared to a dry/ice free road: compare the Philips pictures with earlier ones I made on a dry road 2 and you will see how much dimmer and how much reduced the throw is... So, I will probably remake the beamshots soon (hopefully there will be a few dry warmer days soon).
What is obvious is that there's no way the E3-pro-StVZO comes anywhere near 305 lumen, which was of course already clear from all the analysis earlier and my experiences. What further doesn't come across is the diverging beam pattern of the E3-pro-StVZO. The beam is just too weak to get properly captured by the camera more to the left/right of the road and beyond 25 m in particular. I may experiment with longer exposure times to better show the beam pattern while for the regular beamshots it will stay as described on the camera page.
The E3 triple from 2009 is very very dim and there is no way it produces 550 lumen. But this was clear beforehand, just as with the inflated lumen claim of the E3-pro-StVZO.
Note: The biggest problem with these beamshots (besides that all of them are very dark compared to on a dry road) is that the E3-pro-StVZO appears at first glance much better than the Philips SLD lamp which in reality I don't experience while cycling. Perhaps the reason was to do with how I angled the lamp, which is a bit tricky esp. as the E3-pro-StVZO has not that strong an illumination of larger distances which you more or less see by how little the lamp's beam changed when I set it a bit higher for more throw. Perhaps this was still too low... Note that I set up the lamps while I'm standing still which is a different situation from sitting on the bike where you'd immediately spot an incorrect lamp angle. But the good news is that I made new beamshots on road 3 (reddish asphalt) using the standard 4 seconds exposure time but also 8 seconds which show the beam shape of all the lamps pretty wel even though the road was wet, it started with very fine rain and became heavier while making the beamshots. I will upload these beamshots later today (13 Jan.)
On road 3 (reddish asphalt)
Note: the road was wet, it was drizzling a little, later it rained harder. Beamshots made at 4s and at 8s exposure. The 8s duration was used because the road was wet which should give a dimmer view compared to my regular beamshots on dry roads, but also to better show the actual beam shape (for example, in my beamshot of the Cyo RT on a dry road 2, the beam shape is not at all clear and would need longer exposure). In future I will probably make beamshots at 4s and 8s for all beamshots.
Location: Road 3, Camera height: 1.65 m, Settings: F3.5, ISO 80, 4s/8s, Camera: Samsung ST70
Retroreflective markers on the left and right at 25,50 m (you can't see them well in the beamshots because of the drizzle). Small white sticks at 10 and 15 m on the sides of the road. There are also white square distance markers with the distance written on them but they fell over in the wind :) They are at 10 m and 20 m (you can see those, the 25 m reflective marker is on a triangular shape that you can see a little further than this second distance marker). Problem with these markers is to keep them light and small and still have them stay upright in windy conditions. I'm already taking loads of gear with me on beamshot sessions... I'm not sure yet how to make a good and yet light base for the markers.

| | |
| --- | --- |
| 0.75m E3 pro StVZO, 4s | 0.75m E3 pro StVZO, 8s |
| 0.75m Philips SLD (production date 4610), 4s | 0.75m Philips SLD (production date 4610), 8s |
| 0.75m E3 triple (summer 2009, advertised as 550 lumen), symmetric beam, aimed close, 4s | 0.75m E3 triple (summer 2009, advertised as 550 lumen), symmetric beam, aimed close, 8s |
| 0.75m E3 triple (summer 2009, advertised as 550 lumen), symmetric beam, aimed far, 4s | 0.75m E3 triple (summer 2009, advertised as 550 lumen), symmetric beam, aimed far, 8s |
| 0.75m B&M Lumotec oval senso plus (halogen), 4s | 0.75m B&M Lumotec oval senso plus (halogen), 8s |
My thoughts on why the E3-pro-StVZO looked a lot better than the Philips SLD in the first set of pictures are as follows (edited from emails I sent about this subject, then expanded):

1 I may have just aimed the E3-pro-StVZO too close the first time.
2 The close range in the picture is a bigger part of the picture than that what's further, due to perspective. So if a lamp brightly lights up an area close to the camera, a large area will be bright, and it will appear brighter than another lamp that doesn't light up that close range as much. This is the case with the E3-pro-StVZO vs. the Philips SLD. Note further that you need the light most of all at larger distances! To combat this problem a good way to compare beams is to compare them from the top, i.e. by first looking at the top sections: Use you hand or a piece of paper to cover up the bottom section on both pictures you want to compare, then lower that to check out the lower sections. This will give a much better idea of how good a lamp is at lighting up a specific range [ note that this requires beamshots in which all settings are fairly close (angle at which the camera is pointed to the road for example) ].
3 After examining the beamshots and comparing with the beamshots on road 3, some things become clear:
3.1 It seems as if point 1 could be correct, because when you set the E3-pro-StVZO for good throw, you automatically set it lower than you would a Edelux or Philips as it just doesn't seem to put out enough light for good illumination at 45-50 m. This again means it looks better at short distances, and with the ice, it's very hard to properly illuminate anything so the difference there at long distances, i.e. ca. 25 m to 50 m, is just not something that jumps out (because it's not bright! A large bright spot in a picture jumps out at you, a not so bright spot doesn't jump out compared to a even less bright spot. I mentioned this phenomenon some time ago already in my comparison of the E3-pro-StVZO and Philips with the switchbox while riding (see what I wrote in that section).
3.2 The bigger throw of the Philips SLD, which is not obvious in the icy-road 2 beamshots is quite clear in the beamshots of road 3 (in the 4s exposure shots you can already see this). The E3-pro-StVZO beam just doesn't light up the road very well at long distances. This means more light is close to the rider (distance ca. 5 m - 25 m) whereas for fast riding, I prefer more light at 25 m - 45 m.

There are 2 possibly related reasons for the low brightness at long distance with the E3-pro-StVZO:
i. The beam of the E3-pro-StVZO diverges quite a bit.
ii. The intensity of the beam is probably already lower at 10 m at the top of the beam. This would also result in a lower StVZO lux rating (if this were not the case Supernova would not talk of "The fairy tale of the lux" on their website but would advertise with 'see what high lux rating we got' !), where with the lux rating is meant the highest light density of the beam at 10 m per the StVZO measurement system. A high lux rating, if that lux rating is maintained for a bit below the line on which that maximum is reached, means a lot of light will be put at long distance, if you aim the lamp far. A low lux rating will never result in long throw because not enough light is put in the top of the beam.
I'm not sure if the diverging beam is all that useful, but I still need to experiment on some meandering roads to see how well it works (possibly this weekend).

Preliminary conclusion: The brightness difference on that icy road at long distances didn't jump out, although as I said in my earlier comments from a few days ago, you could make out the Philips did a little better at long distances. Well, the current photos on road 3 seem to confirm all that. Note that in the photos on road 3 the E3-pro-StVZO looks better close to you, which it is, but just about everywhere else the Philips is brighter.
I'm going to experiment a bit more with the E3-pro-StVZO and make beamshots with the lamp at various angles...
Schalten waehrend des Fahrts, zwischen Philips SLD, Supernova E3-pro-StVZO und Schmidt Edelux (Ausfuehrung aus 2008)
Using the same type of setup as shown earlier, but now with 3 lamps, in the night of 14-15 Jan. I rode a long time switching between all of them comparing light output and beam pattern. Results:
The E3-pro-StVZO is not better than the Philips SLD on meandering roads, as the Philips gets pretty wide at longer distances as well, and the beam pattern of the E3-pro-StVZO at greater width than that of the beam of the Philips is just too weak at longer distances (25 m and more). I did like having a wider beam than the Edelux on such roads (the beams of the E3-pro-StVZO and Philips are a lot wider than the Edelux). This confirms my idea that the beam pattern of the E3-pro-StVZO could be useful, but only if the light output is much higher.
The E3-pro-StVZO is pretty weak at long distances. In fact, how weak was made even more clear by the following: after having used the Edelux for a while, then switching to the E3-pro-StVZO this happened: if I put my hand before the Edelux (which has a standlight you cannot switch off), you clearly notice the illumination at long distance getting reduced! If the standlight is still fairly bright, say within 20 s after switching off the Edelux, then even distances from ca. 15-25 m are affected. This does NOT happen with the Edelux on standlight and the Philips SLD running from dynamo which shows the Edelux's standlight adds nothing to the Philips' beam at long distance. Well, the Edelux's standlight adds almost nothing to the Philips SLD; if you look closely and not too long after switching off the Edelux, then you can spot a tiny bit of difference but it's almost negligible.
The most total light output (estimated/impression): Philips; middle: E3-pro-StVZO; least: Edelux.
Smoothest beam pattern (least amount of artefacts): Edelux; middle: E3-pro-StVZO; worst: Philips SLD
The Philips SLD has too much light close to the wheel, this negatively impacts your nightvision somewhat. Switching from Philips to E3-pro-StVZO or Edelux gives a 'ah nice' feeling. I can perhaps describe it this way: It's as if you were annoyed by something but you didn't notice it, then when it was gone you notice that it was in fact bothering you (a little). You can get the same sort of effect with noise: Suppose someone outside is mowing a lawn, you are busy with something and it just doesn't bother you, but when the noise stops you get the 'ah, nice and quiet' feeling. Btw., I've experimented and tried to improve this with the Philips SLD by sticking some semi-transparent tape on the bottom of the lens. I will report on this at a later date.
I also rode a few times at more than 42 km/h to see if the E3-pro-StVZO gets a lot brighter at high speed than at lower speed. It doesn't.
---
Here's an example video (mp4) that may or may not show the differences well depending on your PC monitor's pixel depth (or perhaps it depends on the playing program, for unix like OS'es: For me using an old Syncmaster 710v monitor mplayer gave a good view, xine didn't. With smplayer it's easy to adjust contrast/brightness and which gives a nice overview of how these lamps compare in beam/brightness and thus about the strengths and weaknesses of them all):
---

The video starts with the Philips SLD and E3-pro-StVZO on a road with streetlamps. I then turn right on an unlit road and do the same again. After a while I switch to the Edelux. Then back to the E3-pro-StVZO again. The edelux still puts out light as its standlight cannot be switched off, so I put my hand in front of the lens a few times to show the difference of the E3's light output and the E3+standlight of the Edelux. This is a bit shaky as I have 2 hands off the handlebar (1 for the camera, 1 to put in front of the Edelux's lens) but it should show that the Edelux's standlight significantly influences the amount of light on the road at long distances (you see the Edelux's standlight as the slightly greenish blob):



---
Kann man die Leuchte selber öffnen?
Das Folgende wurde mir erzählt über das Öffnen der Supernova E3 Leuchte (eine ältere Ausfuhrung aus Mitte 2009) von jemandem der verschiedene LED Fahrradlecuchten analysiert hat (Das Folgende ist übrigens nicht wörtlich):

Supernova tell you the LED is upgradeable, but they also say the warranty is void if you try to do it yourself. The housing contains a strong spring keeping the lens in place, and when you open the housing, one (or more) of the feet of the lens will snap off due to this. So you can't actually open up the housing yourself, never mind upgrade the LED to higher binning...
Wie soll man das interpretieren?: Ist das absichtlich (so dass man zurueck zum Hersteller muss und ihnen die Leuchte auf dem neuesten Stand bringen laesst) oder einen Fehler im Entwurf? Jedenfalls sollte man sehr vorsichtig sein wenn man diese Leuchte besitzt und ihr aufmachen möchte.
Supernova ist natuerlicht nicht der einzige Hersteller der Leuchten produziert die man nur schwierig oeffnen kann: Die Edelux und Philips SLD sind auch so, oder besser gesagt, dort ist das Problem dass man nicht weiss wie man die Leuchten oeffnen soll (ohne sie zu beschaedigen). Bei der E3 pro ist es einfachre die Leuchte zu oeffnen (jedenfall in der Ausfuehrung aus 2009) aber dann wird man mit dieses Problem konfrontiert...

Note: The E3-pro-StVZO also appears to be hard to open, this wasn't the case in the earlier non-StVZO version (as per the above conversation), so the cap may be glued on. This may be due to the StVZO rule that in lamps not using standardized light sources (only incandescent bulbs are standardized), the light source (i.e. LED in this case) must be fixed in the lamp. So, if the LED is easily removable then the housing must be glued I suppose. Note that in the Philips LBL, the housing is easy to open but the LEDs are glued to the housing...
Zusammenfassung
Bemerkungen:
Ich würde die Ausführung mit Multimount-halter kaufen, denn der Lenkerhalter sitzt nicht fest genug und der Scheinwerfer verdreht sich (obwohl es vielleicht etwas besser wird nach einer Weile, wenn dass Gummi etwas roher geworden ist und vielleicht etwas griffiger?).
Pluspunkte:
Ausgezeichnete Verarbeitung.
Nicht zu viel Licht am Vorderrad, die Nachtsicht wird also nicht beeinträchtigt (Ich würde aber sagen das es zu wenig Licht am Vorderrad gibt, wie man in den Minuspunkten sehen kann...)
Starke Lichtgarbe, mit slight hotspot (or 'hot cone') but not annoying in most cases (Exception: Riding slowly on snow).
Die Linse hat einen interessanten Pluspunkt für den entgegenkommenden Verkehr: (Fast) keine irritierende Artefakte im Lichbündel über den Horizont. Bei Scheinwerfer mit einem Reflektor sieht man eigentlich immer Artefakte (wie beschrieben auf der Seite über irritierung von Leuchten), und zwar insbesondere entstehend da wo 2 Rände der Segmente des Reflektors zusammenkommen. Man kann das gut sehen wenn man in einem Scheinwerfer schaut wenn dieser nur noch mit dem Standlicht leuchtet, und dan den Blick zu richten auf dem Endpunkt wo zwei Segmente des Reflektors zusammenkommen.
Minuspunkte:
Der Schalter geht ziemlich schwer und insbesondere wenn es kalt ist, ist es schwer zu fühlen ob man den nun wirklich geschaltet hat oder nicht.
Das Leuchtbild divergiert zu viel. Dies ist vielleicht von Nutzen auf nicht geraden Wegen, aber meistens wird licht das weit jenseits vom Fahrbahn kommt einfach nur verschwendet. Wäre die LED 600 lumen, dan ist dies ein guter Weg das Licht das man zur Verfügung hat effektiv zu nutzen, aber mit der Menge an Licht die die LED in wirklichkeit produziert (ich schätze etwas mehr als 200 lumen) könnte das Licht besser auf dem Fahrbahn benutzt werden.
Sehr schwaches Standlight (dies ist kein Problem bezüglich Sicherheit, aber das Standlicht is wertlos um etwas zu sehen wenn man langsam mit dem Fahrrad lauft, wenn der Dynamo kein 'Saft' gibt).
Weil es kein Licht am Vorderrad gibt, und weil das Standlicht so schwach ist, ist dat Standlicht nutzlos um das Fahrrad weg zu stellen in einer unbeleuchteten Garage oder Gartenschuppen.
Eine tiefe Aussparung in der Linse hat wahrscheinlich die Konsequenz daß man nach einer Fahrt im Regen Dreck da rausholen muß (jedenfalls wenn man den Scheinwerfer am Gabel montiert hat, es wird wohl kein Problem sein wenn man ihn am Lenker montiert).
Ziemlich teuer, zweimal so teuer als der Philips SLD.
Fazit:
Fazit von Ende 2010: Die 3 besten dynamo Scheinwerfer, Schmidt Edelux, Philips Saferide LED dynamo, und Supernova E3 pro mit asymmetrischer Linse (die Ausführung von Ende 2010), sind fast ebenbürtig. Sie haben alle ihre Stärken und Schwächen (die größte Schwäche der E3 pro StVZO ist die schwache Beleuchtung auf 25m und weiter, die der Philips ist zu viel Licht neben dem Vorderrad, und der Edelux ist die kleine beleuchtete Fläche auf der Straße). Welcher also für Sie den richtigen ist, hängt ab vom Lichtbild, dem Preis, dem Entwurf, und dem An/Aus Schalter. Ende 2011/Anfang 2012 hat sich die Lage geändert: Es gibt jetzt billige Leuchten mit Lichtbild die dem E3-pro-StVZO ebenürtig sind, nämlich: Herrmans H-diver und Philips Saferide 40. Jetzt bezahlt man nur für das Gehäuse... Dies is aber auch der Fall beim Edelux, der nicht mehr 'der Beste' ist seit der Einführung des Philips Saferide 60.
Für mich ist das Fazit: Schöner Scheinwerfer, schade nur daß er von Supernova hergestellt wird ;-)
---
Verhalten des Herstellers
Because I had enough of what some guy from supernova was saying about lamps from other manufacturers on the IBC forum (http://www.mtb-news.de/, see for example this thread: IBC forum: Supernova Airstream), in a derogatory manner without anything to back up those comments and his comments about the Philips LBL in particular were just bullshit, but also because of how he reacted about the necessity of measuring light output, I lambasted Supernova and that guy on that forum (in the thread about the Airstream, IBC forum: Supernova Airstream, see page 4 and 5).
This was just after a test in Tour of which he told the results in a posting. I have to say this test is pretty poor and biased towards Busch & Müller and Supernova: Tour magazine: 2011-1 Lighting test analysed.

When confronted by true lumen output of lamps and that the Supernova values can't be real, he said that they test with their suppliers (if that's LED output, then I don't believe that for a second) and that tests should be done by a neutral party giving an official certificate. That just takes the biscuit and shows how they act. You may have to deliberate a bit to realise what he really means with that, which is this: By saying this he invalidates any measurements already done (of their products or those from other companies), i.e. that's an excuse not to do measurements themselves, and for not accepting anyone else's measurements. This was the trigger that made me, finally, respond to what that guy had been spouting there.

I was already tempted to give harsh criticism because of the nonsensical comments about the Philips LBL he made a few weeks earlier (that its beam was 'not bad at all, almost as good as the airstream' etc., see the review of the E3-pro-StVZO and of the Philips LBL for more on that) but I only did so after that response from him about light measurement.

So, I gave a calculation that shows the output Supernova claims of the Airstream is impossible with the battery they use/run time given, and also that it appears besides just using datasheet values for LEDs, Supernova doesn't even deduct the optical and electrical losses one can expect to get at an estimate of the light output. I also criticized the beamshots in Tour (German magazine, see also Tour magazine: 2011-1 Lighting test analysed) and I think that that magazine's lighting review is bought for (in the sense of: "you give us a good review, then we will advertise more with you"). I concluded with a challenge, to send 'Siam' & Olaf Schultz an XP-G based Airstream for lumen measurements, and to send me one for a test in the same manner as I do all my tests. I also said I don't believe Supernova will take up this challenge because they are not interested in facts. Perhaps that would make them feel even less compelled to take it up, but I don't care, someone had to tell them the way it is...
---
Supernova was now in a difficult position, either not accept my challenge, or accept it and be confronted with critical reviews. They were checkmate but didn't realise it yet. If they did nothing they would have got questions "why not", if they did, then, well, that's pretty clear:

After this challenge from end 2010 on the IBC forum, Supernova didn't send me an Airstream to review; 'Gregor' gave some bogus "we don't send lamps to individuals" but really, they were simply afraid they would get hammered in a direct and proper comparison with the Philips LBL (unlike what 'Tour' did!), and of course that was indeed what was going to happen because it's clearly inferior in light output.

But they did send an Airstream XP-G and XP-E (StVZO) to 'Siam' to measure the output in lumen, and so partially accepted the challenge, which was also a checkmate.

2011-2-14: My estimates about the maximum output of the Supernova Airstream have been confirmed by 'Siam'. My estimate for the XP-G version was: at most 240 lm, well the results are: http://www.mtb-news.de/forum/showpost.php?p=8019707&postcount=1145: 217 lm for the XP-G version, and 175 lm for the StVZO version. This is lot less than the Philips LBL (270-291 lm) which also doesn't have a diverging beam, which confirms that my estimate that useful illumination of the road surface and throw by the Supernova Airstream would never get close to the Philips LBL, was also correct. I was of course already pretty sure of this after my tests of the E3-pro-StVZO, but it's nice to get objective confirmation by virtue of measurement of the light output of the Airstream.
Last modified: Thu Dec 27 12:53:48 CET 2012