---
---
Summaries of reviews of headlamps with cutoff running on batteries
Tested: 1-21 August 2010, and may times after that. In Sept. 2013 I tested a new version with neutral white LEDs.

Best bike lamp I've ever seen (for on-road use), at a relatively moderate 270 lumen with its superb beam pattern and even illumination of the road surface it blows the Magicshine MJ-808, Edelux and Ktronik's dynamo powered triple XP-G away (and that's true for any other bike lamp I've tested so far except the Betty, up to Sept. 2013: Update 2015-1-6: This is still true, I have not yet seen a better headlamp). It lights up the full width of the road (at least 7 metre) and throw is about 70 m. Bad points: Some versions have a timer to swtich to low mode to make sure you can get home with light, which is set rather short, so the runtime on high is just over an hour. Further, on bad roads the lamp slightly rattles on the mount.

2013-9-27: The new version with what appear to be neutral white LEDs, was made at least since week 41 of 2012, so perhaps this was the first bicycle headlamp with neutral white LEDs? The electronics is also much improved, and the status LEDs too. This is (still) the best bicycle headlamp you can buy...

More details: Philips LED bike light (battery powered): description and review + comparison with Edelux and other lamps

No longer made since early 2014...
Tested: 29 June 2011 - 4 Dec. 2011

Interesting in that it uses a Cree MC-E running at about 5W which should give a similar amount of light to the Philips LBL, but the reflector isn't able to put enough light at the top of the beam, which means little throw. For fast nighttime riders some 2.4W dynamo lamps such as the Edelux or Philips SLD are in fact better. For those who ride at a more leisurely pace at night (say 20 km/h) this lamp is suited very well. I would then only use the low beam, which gives a very wide, very even and very bright beam which lights up the road up to about 40m. I don't like the fact that the cutoff is different for low and high modes, as this means the lamp will blind oncoming traffic in high mode once it's been setup properly in low-mode. The rules in StVZO should be changed to take a changing cutoff into account, i.e. that should not be allowed! Cyclists will likely not turn off the high beam, just like often moped riders don't do that... When using a lamp with good cutoff beam, a high beam is not needed in both cases.

More details: Q-lite QL-269
Tested: 28 Nov. 2011 - sometime early 2012

Even beam, but the plug doesn't seem sturdy enough, which gave me problems. A stronger lightbeam is desirable in many cases, so I'm not going to a buy a replacement to do further tests.

More details: Philips Saferide 40 battery

No longer made since early 2014... (but since 2017 there is the Spanninga Axendo 40 USB that is almost the same)
Tested: Feb. + Nov. 2012

Pedelecs are classed in 2 categories: The first is 25 km/h electric bicycles with pedal assist, the second is fast-pedelecs which can go up to 45 km/h, only allowed in some countries. This lamp is a souped up version of the Saferide 60. It was originally meant for OEMs only, but became available for loose sale in 2012 (from ca. March 2012...)

I had trouble with this headlamp as the first came without instructions, before testing the second I asked for the instructions but they can be interpreted in different ways (due to the drawings in the manual but also the input/output voltage specs printed on the lamp). These instruction really need to be changed! I have used the 2nd one on dynamo, which is possible directly, but that gives a very weak beam (far weaker than a Saferide 40 or Cyo), and when I tried it with a battery it died. New instructions were found by a reader of my website, but it was too late for me...

I'm not going to test any more samples of this lamp, what you can expect from the beam can be seen on my Saferide 60 modification/dissection page where I run the Saferide 60 with the LBL driver.

More details: Philips Saferide 80 pedelec

No longer made since early 2014...
Review/summary to come.
Review/summary to come.
Review/summary to come.
Review/summary to come.
---
Other headlamps with cutoff that run on batteries that could be of interest
The reference lamp is:
Which is the best lamp for on-road use I've seen (as of summer 2011). The rest of this page was originally part of the review of the Philips LBL, but it has expanded so much that it is worth a separate page, and here I describe all lamps with cutoff that could be of interest, but that I haven't got a sample of to review.
Vienna's beamshots
Addition 2011-4-30: 'Vienna' from Japan made a series of beamshots with the camera on a tripod, see: http://photozou.jp/photo/list/214524/3815481
Update: More beamshots from Vienna, also with the Roxim RX5: http://photozou.jp/photo/list/214524/4445699
Here are Vienna's beamshots of the lamps that interest me most:
Click on the thumbnail for the original size:
Big bang, Philips LBL, Dosun D1 Bright-mode, Dosun D1 Regular-mode: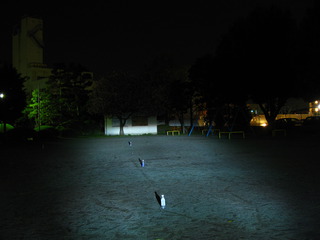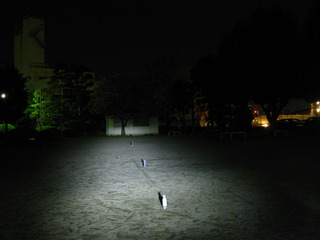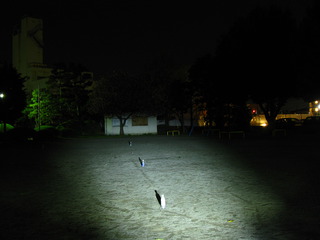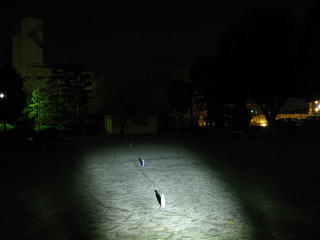 ---
The hut is at 40m, the wall behind that at 50 m. Lampheight is 1.00m, camera height is 1.20m. Camera settings: ISO200, F3.2, 1.3s, which is about the same as my beamshots (ISO 80, F3.5, 4s). The surface is fairly light gray, probably lighter than the rough gray asphalt of road 2.

Pondering about the beamshots:
Dosun D1: In the 'Bright mode' the 4 cores of the MC-E in the D1 light up, in the 'Regular mode' just 2. 'Vienna' says the range of the D1 doesn't seem as limited (I expected throw to be not very good due to low lux rating), but for me limited means ca. 45 m which is about the max range of the Edelux and Philips SLD (dynamo). And you can't really tell the range of the D1 with the given setup.
Dosun D1: Is the D1 StVZO compliant only in the 2 core mode? I wonder because there's a lot of spill upwards in Bright-mode. This also gives some range in that mode... But how much range is hard to say. I would still say not much more than the Edelux as you can see the brightness on the ground of the D1 in Bright-mode rapidly diminishing close to the hut. The LBL is significantly brighter on the ground near the hut at 40 m distance.

Vienna took some shots of the cutoff which helped answering the cutoff question, thanks! See http://photozou.jp/photo/show/214524/78342386. It shows how the cutoff is there in both the regular and bright mode, but in quite different places! This should be an issue in the StVZO tests: Cutoff should be in the same place at different power levels as otherwise it's really cheating the system with an StVZO compliant lamp that actually has a beam that's more like a highbeam (which is not allowed for cars when there is oncoming traffic, and it's not allowed at all for bicycles).
The D1 could be aimed higher in 2 core mode as it now doesn't reach the hut but in that case the light in Bright-mode is aimed too high so opposing traffic would really get blinded. So this is a trade-off by Vienna as you would have to do in normal use (i.e. only use Bright mode on roads with no oncoming traffic). It would still be interesting to see what the beamshot of a higher aimed D1 in 'Regular mode' would be like.
'Vienna' estimates the Philips LBL's range at 40 m but I think that's different interpretation of range. For me it is being able to see 'something' such as a broken off branch. 70 m is a very long way away and it's hard to see anything at that distance on the road even with much more light. The range is definitely 70m that way vs. ca. 45m for Philips SLD and Edelux. The beamshots I made with the lamps set up as I use them, show the cutoff to be at about the same position (70m for LBL, 45m for Edelux). Also note that I get about a similar range with the Betty 2011 with 16° lens in the situations I tried it, so getting more light on the road (not on trees etc.) at a distance of 70m or more is hard because roads are not fully flat, because of perspective, and the smaller angle of reflection at a greater distance.
The Philips LBL could be aimed a bit too low, but I need to check. StVZO gives a 3.4° region in which light intensity must go down from the maximum lux to less than 2.0 lux. I think with the Philips LBL this region is brighter than with the Big bang so perhaps the LBL should be aimed higher. However, then it would put a significant amount of light in the eyes of opposing traffic. This could actually be a reason why I thought the LBL was too bright above the horizon, but to be sure I will do some tests shining it long distance at a wall. This is a an area in which I've not done enough testing. It was actually on my to do list but I couldn't do it due to circumstances from end of Jan. 2011 to early May. Update: My analysis of StVZO headlamp aiming rules and the implications of the 3.4° region made the issues more clear.
The Big bang has a really strict cutoff! The beam is wider than that of the LBL, which is nice, but now I would really like to see what it's like in practice on a longer road. A wider beam is probably the most useful way to use more light than what the LBL produces, as you won't quickly outrun the LBL's beam! Also notable is the awful light colour: very blue, and there's an uneveness in the light colour that I already noticed in another picture (see above) Now look at the ground and you see a bit of the purple that I saw in that other picture as well. That's really bad!
The LS950 is indeed no competition for the LBL (regarding beam quality). I read in a posting from 12 May in http://www.radforum.de/trelock-ls-950-stvzo-70-lux-120-a-187431.html (in German) that the LS950 is brighter than the LBL but from the beamshots from Vienna I don't see that. Note that a cooler white to many people gives the impression of being brighter than a more warm white beam of the same lightouput.
So, for me the question is still: How good are the Big bang and D1 compared to LBL? I think I need to do some tests with the cutoff of lamps against e.g. a wall at long distance as well.
Lux and lumen measurements (estimates) by Vienna
2011-5-29: Very good work by Vienna again, giving lumen output values calibrated using the known output of a given flashlight. The way this works is as follows:
Take a small room, take a torch with known light output (from someone else's measurement done in a calibrated integrating sphere), shine it in the room onto a wall and measure the light output in lux with a luxmeter somewhere in the room.
Shine another light source in the room and measure luxoutput, the lumen output of that second light is lux2/lux1 * known-lumen1.
So the room is essentially used as an integrating sphere which is calibrated using the torch of a type that was measured somewhere else. See Vienna's results here: 2011-5-29: Vienna's lux measurements and lumen estimates.
---
The following are all battery powered headlamps with cutoff that might be competion to the Philips LBL/Saferide 80.
Hilight 60, see also http://www.velomobil-forum.de/forum/showthread.php?25940-Es-werde-Licht!-2-0/page18. This lamp started as a DIY project, it's quite big, and a modification of an ellipsoid lens originally for quad vehicles I believe. Really only suitable for recumbents or trikes due to size.
If I can get a loan or can get it cheap I want to try out the Fenix BT-20... It has neutral white light but it doesn't seem to have a very sharp cutoff. Is this competition for the LBL? (Update: I had zero response from the Fenix websites in 2 months, so I'm not going to test this).
Busch & Müller Ixon IQ [

Inferior light beam (less light, narrower beam, far smaller reach), but longer runtime

]
Dosun D1 [

almost certainly hasn't got the reach of the LBL and will overexpose the near field (because it puts out a lot of light, and not with high lux rating, so a lot ends up close to the cyclist)

]
Busch & Müller Big bang [

Brighter, wider longer beam but this is uneven in strength and colour, and it has a bad light colour, big, longer runtime, too fragile

]
Supernova Airstream [

Inferior light beam (less light, far smaller reach), but longer runtime, smaller mass

]
Trelock LS 950 [

Inferior light beam (less light, narrower beam, far cooler light colour), but more brightness settings, display with information about the battery and longer runtime

]

Philips Saferide e-bike (battery powered with cutoff) The e-bike headlamp needs to adhere to different rules than StVZO, namely ECE R113. E-bikes are electric bicycles that go without needing to pedal, and can go 40 km/h (I think). They are not allowed in all countries. The e-bike version has a smaller lamphead than the LBL (shorter as there are no internal batteries, but also less wide), uses Altilon LEDs and I'm curious how good the beam is. Early 2012 it was to be OEM only, but there was a possibility of making it available for sale on the aftermarket.

2013-4-17: I was supposed to get one for testing early 2012, but I still don't have a testlamp and it seems it's not going to be on sale loose. I'm not sure what Philips is going to do with it or if there will be further developments... 2013-6-27: I haven't heard anything about this lamp any more, so I'm going to leave it at this.

No longer made, not sure when, but Philips stopped with all bike lamps early 2014.

2012 Aug/Sept: Philips: Active ride, for MTB+road. Philips' website. I'm not sure about reviewing this. The beamshape from reports I've seen is far inferior to the Saferide 80, and the claimed lux rating is also a lot lower at 50 lux which means the reach has to be a lot less. The lamp can switch to a non-cutoff MTB beam which makes it a product that could be interesting for those who ride both in the city and on unlit country roads with little oncoming traffic.

2013-12-18: Vienna made pictures of various lamps and those of the Activeride show that the criticism that I read that said that the beam isn't nearly as good as that of the Saferide 80, is correct (I hadn't seen any pictures of the beam yet before seeing his beamshots). The beam clearly isn't as even and what I don't like either is the variation in light colour within the beam. If I had tested the lamp I would strongly criticise this, so possibly that's why Philips didn't send me a sample to test ;-)


No longer made, Philips stopped with all bike lamps early 2014.
---
Last modified: Fri Dec 14 20:20:11 CET 2012