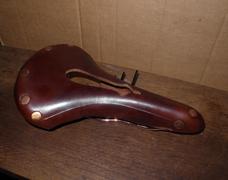 Gambiet: Sales of high quality bicycle parts
High quality bicycle parts. We sell esp. leather saddles and good bicycle lighting.

Sales support my reviews, which give you the best information on bicycle lighting and leather saddles.
Reviews and various ponderings
Bicycle component reviews. You will not find reviews anywhere near as useful, complete and thorough in bicycle lighting and leather saddles anywhere else on the internet.

Copyright
All pictures and text made by me, except: 1. Some stock product photos, those with a pure white background (should be clear when you see them) which come from websites of manufacturers or distributors. 2. A few other types of pictures I got from a forum, manufacturer's website or from readers who sent some pictures, which I note in the text accompanying such pictures, along with a link to the original site where relevant. I use these pictures only on the non-commercial part (i.e. the reviews and explanations of technical stuff) of my website!

If you want to use any of my stuff, for non commercial purposes, that is fine if you mention that you got it from my site...
Contact/email
Contact me about my site: For comments about my site, my reviews etc. send me an email.

Contact me for business enquiries: If you want to buy bicyle lighting, saddles, or consulting work for manufacturers (StVZO translation, explanation etc.), you can phone, email, or use telegram (the app).