Specifications (2019):
Mass:
?? g. (measured)
Width:
?? cm (measured)
Length:
?? cm (measured)
Leather thickness:
?? mm (measured)

Suitable for:

city bike, touring bike.

Price:
ca. €160,-
Website:
http://www.berthoudcycles.fr
This should be ca. 18.0 cm wide, and though advertised to be for city use, I suspect it will be better for touring than the Aspin, which I found to be OK, but less comfortable than the B17 due to being just a bit too narrow for touring (semi upright position).
To come in 2023
---
As there are so many types of Brooks saddles, here's an overview of recommended saddles per bicycle type:
Road bike: Brooks Swallow or B17 narrow Imperial. Also possible, the Professional or Lepper Voyager, or B17 Narrow.
City bike: If you ride fairly quickly: B17 Imperial, or B17 aged (or the Flyer aged if you really want springs). If you prefer a more upright position and gentle or even slow cycling: The B68 or a B67 if you really want springs, but as most City bikes these days come with a front suspension + suspension seatpost, the B68 is more appropriate for such bicycles. Also, the B67 comes with fairly hard springs as mentioned elsewhere, which don't actually improve comfort. It would be better to get a cheap sprung seatpost.
Mountain bike: B17 of any type, B17 Imperial too. Another possibility is using the race saddles Brooks Professional or Lepper Voyager, and if you sit more in a aerodynamic position as on a road bike then a Swift is an option.
Touring bike: B17-Imperial, or for women the B17-S Imperial. Other B17 saddles or the versions with springs ('Flyer') will also do. Also possible for those who like fast touring: the Professional and Lepper Voyager. Perhaps B17 Narrow or Narrow imperial if you ride a lot in aero position.
Exercise bike/ fast touring bike (usually a bit like a road bike, but with flat bar): Brooks Swallow, B17 narrow Imperial, B17 Imperial, Team professional, Lepper Voyager. Possibly also the B17 Narrow imperial, or B17 Narrow.
I don't really like the Swift, but this could be suitable for a road bike or exercise bike if you lace it.
Note 1: Brooks saddles with springs can creak quite a bit. That's annoying! If that happens with your saddle, spray a tiny bit of oil or use some grease or better yet some Proofide, on the top/bottom of the springs where they are connected to the saddle's frame. Creaking has also been reported as a problem with the Selle Anatomica, but I haven't experienced it.

Saddles with springs: On the whole, after having tried most Brooks saddles, I've thought a lot about those springs and I don't see much point in them (at least, those stiff springs). There isn't really an improvement in comfort, except perhaps on really bad roads. But if you ride on a lot of bad roads, it's probably a better idea to install wider tyres (or buy a bike that will allow wider tyres); this gives significantly more increase in comfort than springs on a saddle. Another option is to use a suspension seatpost. Even the cheapest ones give more comfort than the stiff Brooks springs. One advantage of springs over a suspension seatpost is that the saddle height doesn't change as much when changing how you sit on it (e.g. going into an aero position the saddle will jump up with a sprung seatpost)...
---
Whether this is of use to anyone else I don't know, but in any event here's my list of favourite saddles, mainly for fast riding with touring bikes, starting with the best one, the rest are not in a particular order: [ to be updated after testing the Berthoud Aspin and the Selle Anatomica H2 ]
The best: B17 Imperial: This is the best general purpose saddle. It even works well in a near-road-bike position. Some people complain of pinching, that may be because they have wide sit-bones and thus lots of flesh in between them, or perhaps that happens with people who are overweight. I've never noticed this, on any of the saddles with cutout that I tried, either with cycling clothes or with standard clothes.
Team professional with cutout
Team professional
Lepper Voyager
B17 narrow: Despite the narrow width, pretty comfortable for all positions. After riding with the imperial version, I notice the mid-section can annoy a bit, but I can get used to it pretty quickly. Alternatively just use the B17 narrow Imperial of course...
B17: Works almost as well as the B17 Imperial, but not as good for a more sporty position (e.g. putting your arms on the handlebar in case of a strong headwind). Looks nicer than the Imperial, but how it feels is in the end more important.
For other purposes I like:
B68: The best for a daily use bike, with upright sitting position (or the B67, as the B68 is no longer available). For this purpose the B17-imperial is also good, and fairly good too is the standard B17.
Swallow: Only for a road bike. And I preferred the version with steel rails as the titanium version gave me too much bounce.
Note: I no longer ride road bikes because I was always riding with a backpack with stuff, even groceries, and at some point many years ago I decided that I would only ride with my touring bike with panniers. I sold my road bike and so it is unlikely that I will add reviews of other (leather) road bike saddles such as from Berthoud.
---
After a long absence in late 2022 I returned to testing saddles. I was considering in April 2019 to test a few saddles from Berthoud and perhaps a Selle Anatomica H2, but that never happened then. In any case those are the ones that looked the most interesting in what could be better in quality and in ride experience than Brooks saddles. I wrote at that time "if that doesn't happen, then you're on your own" which was true until now :) I updated my thoughts about these saddles and others that seemed interesting from 2008-2023:
2023-2-7: I've been asked many times about the Brooks Cambium: I wanted to test one but never got round to it. Perhaps in 2023, but not sure. The original version was similar to the B17 in top (ca. 17 cm wide) but with a plastic shell which has a rough top which wears down your trousers (negative points) and it has stainless steel rails with an aluminium bridge and front piece (plus points), but that seems to have changed a few years ago to standard steel rails + plastic bridge and nose piece and a different, less abrasive, top. I'd rather have stainless steel rails... Will the plastic shell be comfortable? It will never give the sit bone support of a leather saddle but perhaps it's fine. The Rolls Ergo has a plastic shell + thin layer of gel which works well, which I'm sure got rid of the harshness that a pure plastic shell would give. Versions that I'd like to try: C17 with cutout and C19 with cutout, perhaps C67.


[ as of early 2023 I'm finally testing the Berthoud Aspin, though a used one with deep sit bone indentations that I fixed by soaking, getting back into shape and drying, so I can't say anything about the break-in period, that will happen when/if I try a new Berthoud saddle, perhaps an Aspin-open (i.e. with cutout) ]
Ages ago (ca. 2010? 2011?) I already wrote: Gilles Berthoud's first leather saddle (which was later named Aspin) which was introduced late 2008). 495g, 162 mm wide, very thick leather, Price: ca. €160,- I never got round to reviewing one, though this looked to be the best quality leather saddle then and still currently made, and possibly the best one that was ever made. Can be completely disassembled (and assembled again) with standard inner-hex keys, stainless steel rails (titanium doesn't rust either, but is more fragile; a Ti-carriage on a Brooks will sometimes fail under heavy use where steel ones would have no trouble), and the leather which is waterproof and pre-softened. If water really has no influence remains to be seen of course (I did get a complaint from someone of discolouration from the saddle getting wet, this happened with the Lepper Voyager natural too by the way, I don't think it's important). With the Selle Anatomica for example (also claimed to be waterproof) after a wet 10 km ride, the saddle I used stretched quite a bit. Will that happen here too? Unfortunately this saddle doesn't have a cutout in the middle. Perhaps do-it-yourself can give good results... (however, from my experiences with an aged Flyer, cut-outs are problematic on softened leather which I think explains the problems with the Selle Anatomica as I had exactly the same problems with my modified Flyer-aged as the Selle Anatomica, so possibly, saddles with soft leather tops are unsuited to modifying with cut-outs).


[ I want to try out the Berthoud Aubisqe and Aspin 'open' (cutout) in 2023 ]
2019-4-25: There are more Berthoud saddles: After the initial Berthoud saddle in 2008 (later named Aspin), there have been several more versions, most are now available with cutouts, there are some wider saddles, and they are also made in versions with titanium carriage. I'd be interested in trying out the city saddle Aubisque (180mm wide) and the touring saddle Aspin with cutout (157mm wide). Perhaps I will try them in 2019. I am wondering if the 'natural' saddles are uncoloured or that these are similar to Brooks honey, i.e. whether they will give off colour in the rain or from sweat, to beige trousers... [ Addition 2023-2-7: A representative of Berthoud wrote me long ago, when I enquired about this, that they are not coloured ]



[ I have no intention yet of testing any Gyes saddles as of Feb. 2023. The Spa cycles Nidd is possibly made by Gyes as I read after seeing some comments about another saddle of 'unknown origin' so if I test one of those then I may be testing a Gyes... ]


I contacted Gyes in 2013: Gyes saddles: Some have stainless carriages, those look interesting. But when contacting them. they said I had to buy a whole bunch for a direct sale from them, which would be 100 saddles or more, which is not something I wanted to do! I couldn't find the versions with stainless carriage for sale anywhere else to try out...
2019-4-25: Perhaps the stainless and titanium railed saddles are only made to order, so that would explain why they only wanted to sell me the saddles I wanted in a batch of a 100 but in any case, I still haven't got round to trying any of these as I've not seen the types I want for sale anywhere.



[ I bought a Selle Anatomica H2 in Oct. 2022, and I will start testing it in Feb. or March 2023 ]


2019-4-25: Selle Anatomica: NSX 2: with aluminium frame and stainless steel rails. Looks good, but is it good? Is there interest in reviewing this? A reader wrote about it and it seems the ones without cutout do not have extra layers so then it would mean the saddle might stretch too much if you make a cutout yourself (this is the big problem with pre-softened leather). Dimensions from a reader, as Selle Anatomica for some reason doesn't specify this on their site: Total width (of the leather top): 168mm, between the upper edges of the aluminium cast part of the frame: ca. 140 mm. Note that for the Brooks saddles I measured frame width centre-centre, as the frame is curved so the leather can sag from there, with the new alu frame of Selle Anatomica as in the NSX2 the edges touch the leather so here the inside measurement is required. This means the saddle should be usable for riders with sit bone width of up to ca. 12.0 cm. Leather top thickness: ca. 5.25-5.75mm.
However, the Selle Anatomica H2 and the upcoming Selle Anatomica R2 (rubber like top) look more interesting. Although, I have reservations testing any of their leather saddles with cutout: The shape of the leather top they use is simply NOT right for this, they should have more leather esp. at the front near the start of the cutout (similar to the B17 imperial), that will limit the stretching, which from reading reviews still looks to be an issue up to now (and that is unsurprising)... See my review of Selle Anatomica: Titanico LD for more on this topic.



[ perhaps I will test the Lepper Tourer in 2023 ]


2019-4-26: Last year (2018) or perhaps it was 2017, I saw a new type of saddle from Lepper, the Lepper tourer (saddle was introduced 2017), which seems interesting having a depression instead of a cutout. I also read that Lepper was taken over in 2013 by a group that owns other bicycle brands already and moved from Dieren to Apeldoorn. Hmm... I suppose business didn't go that well? If so, that is strange as they never had enough to sell to me and they preferred to sell to other markets. In any case the tourer looks interesting but only for this depression instead of cutout. How well will that work? Also of note is that the Voyager was gone from the lineup already before this group decided to kill the Lepper brand...


2022-11-8: I may try out Spa cycles "Nidd" leather saddle. These have very thick leather, look to last very long so this could be interesting to try out, especially to see how it behaves when soaked and then go riding on it. As I still have a number of saddles to test (fixed B17-ti, fixed Berthoud Aspin, Selle Anatomica H2), this will have to wait a bit.


---
Apart from the obvious modifications of using a B17 special or B17 titanium with Imperial cutout, there are a few other options that give interesting variations on what Brooks offers. I will also place here saddles that I repaired in some way that it needed some sort of modification such as the B17-ti that was too stretched:
This just doesn't work because the leather is too soft...

My experiences in modifying an aged Flyer saddle to have the same cutout as the B17-Imperial show it is problematic to used pre-softened leather to make saddles with a cutout (giving me exactly the same problems as with the Selle Anatomica). Together with my experiences of lacing a Selle Anatomica, it made me realise the value of pre-softened leather: Not much and it's almost certainly detrimental to the saddle's longevity.


See more of my experiences here
I can't find the picture that I made, in any case it's similar to the lacing of any leather saddle...

The lacing similar to what Brooks does with the B17 imperial, removes the hammock feel from the saddle, making it feel not so different from a B17 imperial, so more harsh, not a soft ride. That is not what the Titanico saddle is about, then you can just as well use a Brooks imperial... The soft leather in this saddle is a problem for longevity esp. with a cutout, similar to what happens in the Aged saddles with Brooks when making a cutout in them.


See more of my experiences here
This may be the optimal saddle for the wider butts :) 17.2 cm instead of 15.0 cm for the normal Swallow. For lightweight riders it's also suitable of course. Some people prefer the B17 Imperial over this, perhaps due to the more hammock style feel, and the flatter top of this modification. This is one of my favourite saddles... So it doesn't seem to be the case that the saddle is too flat for people with narrow sit bones like me, at least not when tightening the rearmost tie wrap which makes the rear a bit stiffer and a bit less flat. It seems those who prefer the B17 Imperial may just not like the feel of it. I was told the front can feel narrower than with the B17 imperial. This may be related to the flatter leather at the back which can give the feel of a wider saddle.


Some more on experiences by buyers of this modified saddle:


One buyer couldn't get on with it as he didn't like the feeling of the saddle which is a bit more hammock-like (like the selle Anatomica), but everyone else likes it. And note that you can adjust the feeling by tensioning the rearmost tie-wrap more...

See more of my experiences here
This is a nice version that keeps the characteristic of the Team professional while making it look more like a Swallow. I made the cutout not very high to keep as much structural strength, as Brooks' Swallow stretches too much in case it gets wet.

See more on this saddle here
This improves on the Team pro Swallow with a bit more comfortable ride, and it looks cool too. As with the Team pro Swallow, I made the cutout not very high to keep as much structural strength as possible. Long term experiences to come the coming months.

See more on this saddle here
This improves on the Team pro Swallow with a bit more comfortable ride, and it looks cool too, and almost keeps the look of the original with no lacing or cutout at the sides. I've been riding this for a long time, and the lacing is not needed, so far (if needed at some point then a single lace will probably do, this is because of the shape of the leather/frame on the Team pro which makes the leather top not flare out as the B17 does when you sit on it... Pictures + further description of my experiences to come.

See more on this saddle here
My goal was to make the cutout stay longer in shape as with the B17 imperial the cutout becomes narrower. The middle placement of the lacing should make this less of an issue as the leather will not bend as much and the sides will pull back the leather. I've used it almost half a year and it works well. The saddle can be set in feel to be almost like a Selle Anatomica (Hammock feel, very soft) to very harsh, depending on how tight the lacing is done.

See more on this saddle here
A test with something very different: Trying to get a total removal of pressure on soft tissue in the middle, I lengthened the cutout to the metal nose, but the leather is not completely removed but a flap remains so you won't hit a sharp edge. The middle is removed, but a flap of ca. 2 cm wide is bent, giving a cutout of about 7 cm wide at the end. The feeling of any pressure in the middle is gone. Just need to see about long term riding, how it will keep its shape. The multiple ways to lace it should make it work fine but I will see. Actually I will let someone else test it out further for a while first while I'm on a long trip.

See more on this saddle here
| | |
| --- | --- |
| | The B68s can sag a lot, more so than the men's version B68, and to counter this I laced a saddle which improved the ride a lot, getting the saddle's shape almost back to as it was originally. |
See the review of the Swift for more details.
2018-7-3: I did this mod in 2017, to give me a Brooks saddle with the old style soft springs with the new style single rail carriage. For this I dissected a B66 Champion, and the Flyer aged that I modified. The modification of the Flyer aged was a failure, the soft leather is not suitable for cutouts, and I wasn't interested in keeping it as an example of what doesn't work, so I decided to combine both saddles to make a 'B67 Champion' :) So now I don't need to use crutches such as a seatpost sandwich to use the B66 Champion on any of my bikes (well, that is just 2 bikes).
I've been using this on my touring bike, but not that much as I've been working on dialing in that bike to get it set up for long tours, so I waited to write about it until now. I didn't feel the springs were as effective as I thought (felt) they were the previous time that I used the B66 Champion (it was long ago, possibly it was with a hack to make it fit on a patent seatpost), but I will ride more with it soon, so more experiences and pics of how it looks to come.
2019-4-22: Update after a lot of use: After my main test bike was stolen in 2018, I used this saddle quite a lot on my touring bike which I now use for everything. I like it, but I'd like it more with cutout. I don't have the required spare saddles to make another B67 Champion (such as a B17 Flyer + old B66 with soft springs, of the latter just use the springs), and then make a cutout, so what to do next? My favourite B17 imperial saddle was on the stolen bike so I suppose I need to make a new one, and find a few saddles for the 2nd modification (that would become a B67 champion imperial).
See the review of the B17 for what the B17 is like normally.
I bought this saddle from a seller in NL, while on my trip in Poland/Ukraine and had it sent to a relative in NL. I saw it offered as being too stretched, one of the 2 front rivets had gone through the leather, so perhaps I could replace the leather top (I looked a bit for leather, but getting the right thickness is not easy, none of the sellers I contacted had 5mm+), or I could use the titanium frame on a standard B17.
I started by drilling out the copper rivets, which you need to do carefully as it is easy to drill into the titanium (which is fairly soft compared to steel). This worked fairly well. The leather had stretched about 2 cm, the tensioning bolt was at its end, so what to do next? Well, I put it into water and after the leather had become very soft, I pushed it into shape and used some balls from newspapers pushed between the leather and the frame to keep that shape until it dried out, also using some wood clamps to get the nose section narrow enough. I then let it dry for about week. This resulted in the leather top shrinking about 1 cm. This meant it was slightly difficult to place the nose cone where I wanted it so I should have done that while it was still wet... In any case, I used stainless steel inner hex bolts with round head, and narrow stainless nuts (needed because the leather top shrank too much so the nose cone was right on the bolt/nut and these gave enough room so the cone would pass the nuts when tightening the tensioning bolt. You can use normal nuts and grind them down in width if needed.
I had drilled the holes in the leather, and with these bolts/nuts (using some thread locker on them), I fixed the nose cone to the leather.
First ride: The leather was way too soft, so the previous owner may have used some leather softener, or perhaps this is caused by the stretching but I suspect something was applied to the leather for softening as most of the leather feels soft except for a small bit on one of the sides.
This just didn't work at all, it sagged so much that I would sit far down 'in' it rather than 'on' it. Stretching the top (tensioning bolt) didn't help enough...
So the next step to try was to add lacing: As the leather is so soft I decided to lace it middle-high. With the B17 imperial lacing usually makes the leather becomes slightly pushed out in the middle, and this counters what the lacing should do, however it works well enough if the leather is stiff. This would likely not work here so I used middle high lacing (which is on the line that is the middle between the bottom of the leather and the saddle's top), and this way I could ride normally with it, and it is very comfortable. With this lacing I consider the saddle rescued, but I will have to see how it will get on with long rides in summer when it may get semi-wet from sweat and at the same time being ridden on.
---
I tried the following types/makes:
In the 80s I used a seat cover similar to the Velox (see below), i.e. stretchy and tight fitting on a B17/B66 Champion, but it had a dark gray colour, and was much, much, much better, stronger/durable. It lasted for years even though I mistreated it by often not removing it from the saddle and just cycling with it still on the saddle. Do such seat covers still exist?
Brooks (until 2010, with Brooks logo on top): Too stiff and not waterproof enough.
Brooks, 2010 version: This doesn't have the logo on top. After a lot of rainy days these came out as working very well, letting no rain through. The only minus point is that for the B17 the M-sized cover is slightly too small in my view. It's hard to fully cover the saddle with the rain cover and the bottom section of leather got wet a few times.
Eager sport (UK): From the start this lets a lot of water through the seams. Sealing the seams with contact glue didn't help enough so I threw it away.
Velox?: This is an elastic one which is coated with rubber. It's sold by Gilles Berthoud and I think it's made by Velox (french company). This one now has a lot of tiny (pinprick sized) holes in the rubber and is no longer waterproof (after just a few months). To make some pictures, I had a closer look and those small holes are now quite large. Here are the pictures:

I've only used it a few months... Very disappointing.
Dryseat: The best one I've tried that's currently available. Can be stored under the saddle and you won't lose it, as it's attached via a cord. The cord that you fix through your saddle rails enables you to store the cover underneath you saddle by just stuffing it under the saddle. I'm having trouble getting hold of them in 2009...
Vaude: About as good as the Dryseat. The Dryseat's cord that you fix the seat cover to your saddle with through the saddle rails (which also enables you to store the cover underneath you saddle while riding without fear of losing it), can be emulated with a tie-wrap that goes round one of the saddle's rails and through the cover's cord (see the 2nd picture).

Hock: A bit short, more suitable to city bike saddles like the B68 or ladies saddles. Not waterproof enough.
Haberland: Good, comparable to Vaude and Dryseat.
Possibly to come in 2023 a review of one of the rideable saddle covers from Randi Jo fabrications.
---
1. In various places there seems to be a misconception about the durability of Brooks saddles, that this was much better in the past, and that older saddles had thicker leather. I don't believe this is true as I don't see any indication of this and definitely no objective data from people who claim this, such as measurements of leather thickness. There is a variation on how long a Brooks saddle lasts, but this is probably mostly due to natural variations in the leather.

I asked Brooks specifically about this and they said the leather is specified to be between 5 and 6 mm at the tanneries. This doesn't explain why I hardly see any saddles with a thickness of more than 5 mm, but perhaps this thickness measurement is before drying out and perhaps it will get a bit thinner after that (I shall ask to be sure ;-)). In any event, Brooks themselves say the leather in the past was no thicker than it is today.
1.1. Leather thickness: I measured old Brooks saddles from the 1960s, 1980s and today, and the leather varies a bit, usually from ca. 4.6 to 4.8 mm. There are some variations in leather thickness in a single saddle, depending on where on the saddle you measure (and is probably the reason the Swallow's leather appears so thick, through a slight curvature) so these numbers are averages from a few measurement positions on each saddle.
1.2. Durability: A B66 Champion from ca. the mid 1960s deteriorated rapidly when untreated by Proofide and leaving it unprotected outside for a few months. This is exactly what happens with newer saddles and really shows that the leather was not better then than now and that proper maintenance is essential.
It would actually be weird if the quality got worse, as that would mean some essential part has changed in the leather itself as leather selection seems to be exactly done as it always was. This may be possible but would mean e.g. the cows eat differently or get certain chemicals into their system which are bad for their skin. However, I do not see a change in leather quality in 60s, 80s, or 2005-2009 saddles.
2. There is also the conception that the B17 Champion special has thicker leather than the B17 Champion standard. This is not the case from my measurements and Brooks do not mention this 'fact' either, so this again appears to be a myth that people for some reason like to believe in. The B17 titanium (which is also stamped B17 Champion special on the leather) again has the same leather thickness as the B17 standard. Sometimes you do get a batch of saddles with slightly thicker leather. For example I bought a batch of B17 standards which all had 4.9 to 5.0 mm leather thickness. A few B17 Imperial saddles (based on the Champion standard) and one B17 narrow Imperial also had leather ca. 4.9 to 5.0 mm thick. None were from the Champion special series...
3. A persistent tale going round in the Netherlands, is that the Brooks Flyer special is the new version of the Conquest. The width and shape of Flyer special (i.e. the leather top) are those of the B17 (17.2 cm wide) which is quite different from the Conquest (and Conqueror) that has a different shape (much narrower at the front) and is narrower at 16.0 cm wide. The springs on the Flyer special are quite stiff, comparable to the Conquest/Conqueror, but that's something all Flyers have these days apparently. My old 60's B66 Champion is a lot more comfortable in that respect.
It's a comparable situation in Germany, where the Flyer special is called the successor to the Conquest by some people/companies. But the Flyer special is just a more expensive version of the Flyer, and was introduced before the Conquest was removed from the Brooks lists...
---
On forums I read that chrome plated carriages of Brooks saddles appear to break more often than the other versions. In particular, on German forums can be found that several people had saddles break after around 1 to 2 years, especially if they weigh in the neighbourhood of 100 kg or more, and some of them had had this problem with multiple saddles. I therefore asked Brooks, if the chromium plating process had an effect on the steel (to make it more brittle perhaps, at least a thin layer of it), such that this can happen.
My verbatim question to Brooks was:
I've read in various forums that the Brooks saddles with chrome rails tend to break after 1 to 2 years, for riders of around 100 kg or more. I don't weigh that much but with a [ full ] backpack I do. I haven't ridden a [ single railed ] saddle with chrome rails long enough to know if it would affect me though. It seems from those accounts that Brooks saddles with black (enamel?) coated rails do not suffer from this problem. What I'd like to know is if Brooks have investigated this issue? Is there perhaps a weakening in the steel caused by the chrome plating process? Or just bad luck with those riders (some have indicated this happened with several saddles though).

Note: what I put in bold above was not included in my emailed question, but I added that to make it more clear what I meant on this page, without needing to include more details from emails or other sources.
[ Brooks' response to my question, 5 January 2010 ]:
There is a known risk with chrome rails but it is much too severe to state that every rail will break after 1 or 2 years; this is simply not true.

There are two issues to consider with chrome:

1/ Chrome itself is a quite a brittle substance and, if bent or folded too much, its surface will crack. Brooks do specify a very particular type of chrome plating, called Duplex plating, which uses also layers of nickel to increase the flexibility of the final result.

Once the chrome surface has cracked, this creates a weakness at that point and the crack in the chrome will tend to migrate into the steel itself - resulting eventually in a broken rail

2/ The process of chrome plating - electrolysis - has to be very carefully controlled; both in the amount of chrome that is allowed to flow between the Anode and the Cathode plates, and also (crucially) in the time duration that the components that are being plated are allowed to remain in the Ionic fluid within the plating vat.

If the amount of chrome plate applied to a component is too much (i.e. too thick), the probability of the chrome surface cracking is increased.

If the time duration for the components to be in the ionic fluid is too long, there is a risk that minute air bubbles will become trapped between bare steel and the inside of the chrome plate. This is invariably lead to cracking and rail breakage at some future time. It is also virtually impossible to detect whether, or not, any air bubble have become trapped. This problem is a well know and documented concern with chrome plating and is know as "chrome embrittlement"

In conclusion, my advice to consumers with chrome rails is as follows:

It is more important with a chrome frame that the rider maintains the correct tension in the leather of the saddle; This will prevent excessive movement in the rails and reduce the risk of the chrome surface cracking.

In terms of chrome embrittlement, we do monitor this process and so I would say the that risk is very low.
---
When I recently got hold of a 2010 made B67 with those stiff springs I mentioned in the review section, I wondered if the softer springs were still being used in any of Brooks saddles and thus if the springs with 4.55 mm diameter steel wire as used in the older versions of the B66 and B66 Champion, were still available. Brooks' answer on 23 June 2010:
Up until 1999 we produced all our springs from 4.47 mm dia. wire, but an increase in broken springs led us to start using 4.88mm wire, which eradicated the problem, but resulted in a firmer ride. As a result, we have no cause to keep a stock of 4.47mm wire, so regrettably are unable to meet your request.
Note that the diameter Brooks gives in both types is about 0.07 mm less than what I measure. I assume that's from the chromium plating.
I further find the reason given unclear. Why were the springs up to that point fine (for at least 4 decades!), but was there fairly recently an 'increase in broken springs'? This looks more like a quality control issue... Or has the average weight of cyclists increased a lot in the 1990s?
---
Experiences up to and including 2009:
Selle Anatomica: A red saddle gave off its colour immediately on a very warm summer day (which means sweating) on a beige pair of trousers. And it's not coming out in the laundry...
Brooks: No bad experiences yet with coloured (=anything but natural/honey) saddles. I used to ride on a brown B66 Champion (old honey which becomes a dark brown) and occasionaly a black B66 saddle but haven't noticed discolouration of trousers. This summer I will experiment with a maroon (red-brown) and antique brown saddle using a beige pair of trousers.
Selle San Marco Rolls saddle (black top): The Rolls saddles have a thin leather top. I used to ride on it quite often with regular (non-cycling) clothes (this was ca. 1992-1995), and I noticed the saddle gave off a little bit of black onto beige trousers. I asked a bike shop about it and it was no news to the guy I asked, who recommended putting and old bit of stocking over the saddle. I didn't try that btw.
In an old 1980s manual for a Gazelle bicycle I read something interesting about leather saddles, namely that the giving off of colour happens when the saddles are new, so this shouldn't happen any more with older saddles. I will test if this is true as well...
Experiences in 2010:
Using a near new B17 Narrow in antique brown (used for about 200 km), I rode about 20 km in hot weather (sweat) and there was a vague impression of brown onto the beige pair of short trousers I used to test this. So a Brooks saddle does give off colour, not really when dry, but only when it gets moist from sweat. Next test: Making the top wet as if riding in the rain. Result to folow.
B17 Imperial maroon that was also nearly new (perhaps used for 100 km): This clearly gives off, much more than brown...
To follow: Trying the B17 Imperial black that has been used for nearly 7000 km and see how much black it gives off both when dry and when wet.
Done: tests with a B17 narrow antique brown, Swift chrome black. Update 2019-4-25: I intended to write up my experiences in 2010/2011, but I seem to not have done this. In any case, all of Brooks leather saddles give off colour, the Select the least. I would like to see more emphasis on this aspect by saddle makers, to make really uncoloured saddles (as far as possible, I presume the process to prepare the leather will also colour it somewhat).
Tests to come in 2019:
2019-5-1: I forgot about testing whether giving off of colour stops with a well used saddle as mentioned in the Gazelle manual. I will think about which saddles to use to test this, my most used B17 imperial would have been a good candidate as I used that for many years, left in the rain a lot etc., if I still had it! (It was on my bicycle that was stolen in 2018). Perhaps I will use the B17 narrow for this test... Further, I asked Gilles Berthoud whether their 'natural' saddles are made with any colouring during the process, similar to Brooks honey which is lightly coloured, and the answer is: No. That's good, I will therefore test the natural versions of the Aspin/Aubisque and see what happens in use...
---
Natural coloured saddles are not coloured. Honey coloured saddles are coloured... The colour natural has is very light sometimes nearly white, honey in the beginning is a light brown, but that changes after use and after a while becomes darker (by absorption of sweat, skin grease when grabbing the saddle, etc.), and after years will change into a dark brown. Here's an example of a new Lepper Voyager in natural and on that has been used intensively for about 1800 km in warm weather (lots of sweat etc.), and I suppose the more open top of the Voyager is why the colour changed quite soon. Brooks saddles have a smooth top layer that looks a bit more resistant to colour change:


Whether this colour change is positive or negative depends on your point of view. I think it's interesting to have a saddle colour that changes...
Here's a test that shows the colour coming off of a Brooks honey mudflap (made from the same leather and treated the same way as the saddles). This is why you should be careful to ride with in particular white or beige trousers on a leather saddle. In case of rain or because of sweat on a hot day, the colour can come off onto your trousers:



To get the desired colours leather is usually treated in a colour bath and the colour will have been soaked deep into the leather. I read somewhere about the colour of a black Brooks saddle that 'that will wear off', but that's not true. When you look at the cross section of the leather you see the colour has soaked deep into the leather, especially so with black saddles.
Here's a bit of black leather, and below the surface it's also black: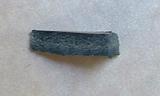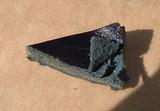 I'm not sure how it is with the black Lepper Voyager, and I've seen pictures if an old Brooks B66 (from someone who offered one second hand) that was also black on 1 side (that means it wasn't in a colour bath). How resistant to wear that is I don't know. Some B66S saddles from the mid 1980s that my dad bought, were black on both sides and with them too, the colour is soaked deep into the leather on both sides, so I'm not sure from when those saddles are. Possibly from before the mid 1980s. Or perhaps even Brooks dyed some natural saddles black on one side when there was a shortage of black ones? I can only guess, and I suppose I should ask Brooks about this too!
White leather saddles are not usually made, and I think the reason is not just that it is fairly hard to make the saddles in this colour, but also that when they wear the colour wears off unevenly.
The Brooks select saddles are fairly light, almost white in some cases but it depends per batch. And these will get darker with use! (just like honey becomes more like antique brown after several years of use for example). If you really want white, then a non-leather saddle is perhaps better. A white leather saddle will, when the top layer wears, get a little darker in those places where it's worn so you get dark spots.
I experienced this type of wear with white leather shoes which became very ugly where they were worn...
---
I've made various suggestions to in particular Brooks in 2010-2011, the first is to retire the tensioner, and just use inner-hex keys (Allen keys) as they are used so much on bicycles anyway. Brooks already do this with the Swift-titanium, B17-titanium, Team pro titanium. The Swallow tensioner is even more annoying as it only fits that saddle.

The second is that saddles with stiff springs are useless, as they don't give much comfort and the springs don't need to be stiff because for mountain bike use, springs are really superflous (perhaps they were of use in the days without any suspension on bikes, but not now). So, my suggestion was to reintroduce the B66-Champion but with single rails, which could be called the B67-Champion (B17 top + single rails + soft springs). The B66 Champion as I wrote above is a very comfortable saddle, much better than a Flyer-aged...
Btw, it is possible to this this yourself: get a Flyer/Flyer special/Flyer aged, remove the nuts, then remove the stiff springs and insert the softer springs from an older B66 (B66 saddles from 1999 on have those stiff springs! And the B67 was introduced in 2001 so these all have hard springs) and fix them with those nuts again.
Addition: In 2017 I did something like that: I had a B66 Champion special, from the 1980s I think, with soft springs and dual rail carriage, so not suitable for a patent seat post. One could use some seatpost wedge, but I couldn't find a good quality one here in NL and I had the Flyer aged that was useless since I made the cutout. I didn't want to keep it as an 'example of what doesn't work', so I disassembled both saddles so that I could switch the bottom part of the frame from the Flyer aged, with the dual rail bottom part of the frame of the B66 Champion...
---
See the separate page Leather saddle break-in and maintenance (preparing for use, tensioning, etc.).
---
Despite what some people say, a test ride on a leather saddle DOES make sense. That you may have a different sit bone width from the one who broke in the saddle doesn't matter all that much, because the process of breaking-in makes the saddle only a little more comfortable around the sit bone area.
For some people the support around the sit bones that a leather saddle gives is important so that on long duration rides the skin doesn't get irritated around the sit bones, but that's not an issue you can find out about on a short test ride anyway (I mean whether a leather saddle solves that problem that some people have).
If a leather saddle seems like it will not work for you on a short ride, for whatever reason, then it barely matters that the saddle was broken in by somebody else (and thus that the leather has become softer around the areas on the leather where the sit bones rest), then it will probably not work for you... You can feel the essentials of the leather saddle quickly, such as that it doesn't get hot while riding on it, you can feel the way the shape of the top is too wide or too narrow for your sit bones and riding style, the way the angle of the saddle needs to be adjusted to sit comfortably (or perhaps never :)) as with the Swift, etc.
Last modified: 2023-3-27