Rear lamp: B&M Toplight flat plus
Specifications:
StVZO approval no: K514
Mass: 70 g (with washers/nuts). When using the insert on the rear for 80mm bolt distance it will become several gram heavier...
Size: 110 mm width, 52.6 mm height, 20.7 mm thickness.
Light source: a red LED.
Mounting method: On the rear rack, 50 mm or 80 mm bolt distance (centre to centre) with inserts for the 80 mm distance (this means you can lose stuff over time, and if you want to mount it on a rack with 80 mm distance you may have lost the bits...).
Construction: Plastic, housing cannot be openend
Cabling/connectors: There are 2 connectors for 2.8 mm female plugs as used on standard double strand wires you can buy from a bike shop.
Price: ca. € 12,-

Pictures: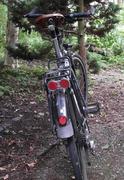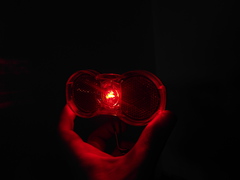 Beam shots
See the camera settings page for more on the setup and settings to make pictures of the beams of taillamps.
Out of a corner (showing how much light is cast upwards, forwards and to the sides) [ F3.9 & F1.8 ]: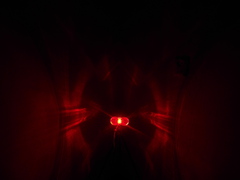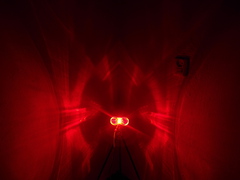 Wallshot (showing the beam pattern):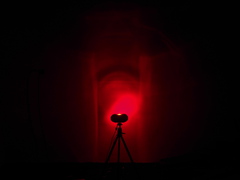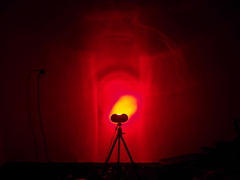 Visibility from various angles (0°, 45°, 90°, 135°) [ 0.5m, zoom x3, F3.5, ISO80, 1/250s & 1/60s ]: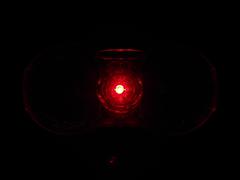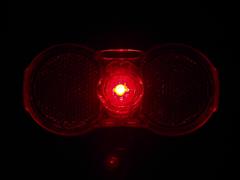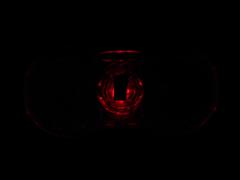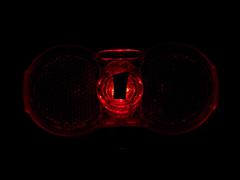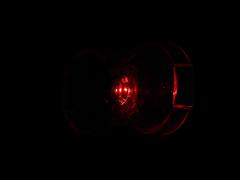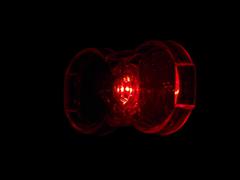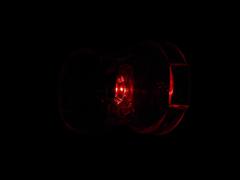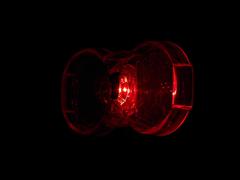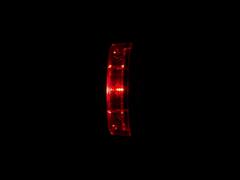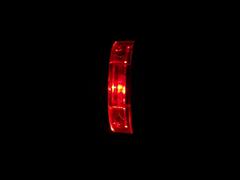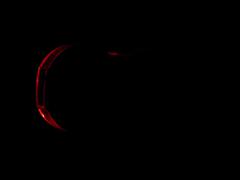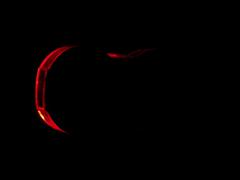 Comparing taillamps
Experiences
I've used this for a few years now, not long since it came out. The light is a very intense point source in the middle coming from the LED. The light is not diffusely spead over a larger area. The lamp is therefore very annoying for people riding behind you. It also has a fairly poor visibility compared to lamps such as the flat S plus, the line plus and the H-track.
Something you may want to note is that this lamp does not have proper overvoltage protection that will last. The instructions say that if the front lamp is defective (which should have an overvoltage protection), you should stop cycling as the taillamp will only last a short time. All in all I would not buy this lamp any more. The Flat S plus but especially the Toplight line plus are better.
As to size and weight: It's amazing that this taillamp is about the same weight as the Basta Ray which is much bigger!
Annoying for following traffic until which distance?: ≥25m distance
Visibility: Poor
Visibility by reflection: To be tested.
Ease of connecting wires: Good for 2.8 mm plugs.

Design- and thus review considerations for taillamps
See Theory for taillamps.
Conclusion
Small emitting surface giving only a reasonable visibility, and it's very annoying for following cyclists, therefore: Not recommended.
Last modified: Sun Mar 3 22:01:41 CET 2013