Rear lamp: B&M Toplight line brake plus
I don't think a brake lamp is very useful (see my ponderings), but I'm going to test it and see if my views/theories are correct or not...
Specifications: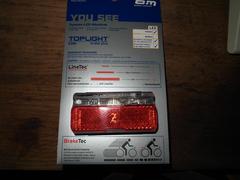 StVZO approval no: K659 (on reflector) + K658 + K751
Mass: 53 g (with knurled washers and nuts).
Size: 93.5 mm width, 44.7 mm height, 17.4 mm thickness (so slightly thicker than the Line plus).
Light source: 2 red LEDs.
Mounting method: On the rear rack, 50 mm bolt distance (80 mm is also available).
Cabling/connectors: There are 2 connectors for 2.8 mm female plugs as used on standard double strand wires you can buy from a bike shop, you can also use wires without connectors, remove the insulation at the ends, and clamp these in the lamp with a lever.
Construction: Plastic, housing cannot be openend, with galvanised bolts sticking out, stainless spring washers, and what seem to be chromed plated brass nuts (they have a slightly different colour than stainless steel nuts). This is not as good as the Line plus I bought long ago, which came with stainless steel nylock nuts. For the price this lamp is sold for, it should have come with all stainless bolts/nuts.

Price: ca. € 40,-

Pictures:
Beam shots
See the camera settings page for more on the setup and settings to make pictures of the beams of taillamps.
Out of a corner (showing how much light is cast upwards, forwards and to the sides) [ F3.9 & F1.8 ]: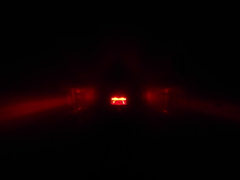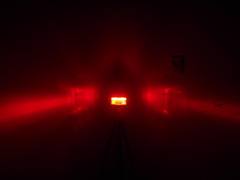 Wallshot (showing the beam pattern):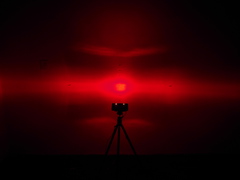 Visibility from various angles (0°, 45°, 90°, 135°) [ 0.5m, zoom x3, F3.5, ISO80, 1/250s & 1/60s ]: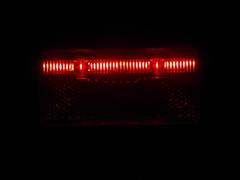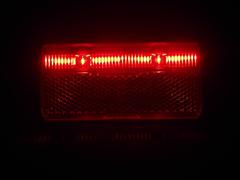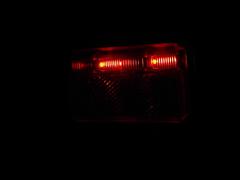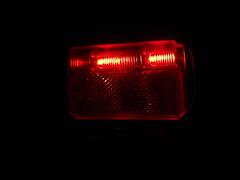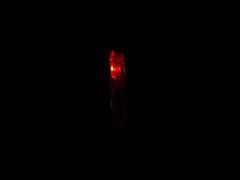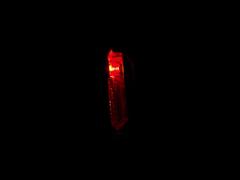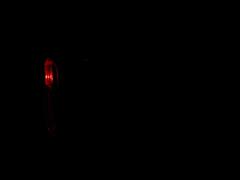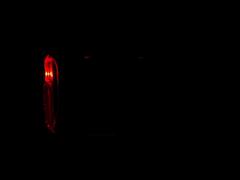 Comparing taillamps
Experiences
Tested from: 2012-2-24
Test indoors with bicycle upside down:
With standard sidewall dynamo: It doesn't seem to work properly. The brake function (= taillamp gets brighter) is regularly activated at constant speed.
With dynamo hub: Letting the wheel rotate gives a brighter taillamp at some point during the slowing down of the wheel (slowing just from the power taken by the dynamo hub), but it doesn't last long. Suddenly stopping the wheel activates the brake function in the same way.
Test while cycling, with the taillamp mounted on the handle bar:
With dynamo hub: It works, when coasting (and thus slowing down mainly through windresistance) the brake function is not activated. When going say 20 km/h and briefly brake which reduces speed to ca. 19 km/h the brake function activates for about 1.5 s. When braking longer the brake function is activated for as long as I brake, until about 1.5s after I stopped braking.
With standard sidewall dynamo: I adjusted the dynamo such that it doesn't slip on the tyre at any speed I tested, but I got the same problem as with the indoor test. At speeds of 10-15 km/h the brake light goes on-off-on-off etc. while riding at a constant speed. Strange, or is this perhaps caused by slight slippage that may take place? (esp. because of the mist when I tested the lamp, so the tyre gets a bit damp) At higher speeds of ca. 18-25 km/h I didn't experience this. As the dynamo was placed so it was running on the tyre with a lot of force, the function of the dynamo should be considered 'normal'. The situation was not extraordinary and far better than what happens with rain. This means the Line brake plus is useless when used with a sidewall dynamo.
Design- and thus review considerations for taillamps
See Theory for taillamps.
Conclusion
To come.
For the price this is sold for, it should come with stainless steel bolts and stainless nylock nuts.
Last modified: Tue Feb 26 18:32:22 CET 2013