Taillamp: Basta Riff steady
Note: The company Basta was bought in 2000 by Axa, and they seem to be phasing out the name Basta. For example, the 'Axa Riff' used to be the 'Basta Riff'. I will use the original name.
Specifications:
StVZO approval no: K672
Mass: 72 g (with nuts).
Size: 106.4 mm width, 48.0 mm height, 39.2 mm thickness.
Light source: a red LED.
Mounting method: On the rear rack, 50 mm bolt distance (80 mm is also available).
Cabling/connectors: There are 2 connectors for 2.8 mm female plugs as used on standard double strand wires you can buy from a bike shop. There are 2 small plastic connectors included to instead connect bare wires to those 2.8 mm connectors.
Construction: Plastic, with zinc plated bolts sticking out, zinc plated spring washers and zinc plated nuts.

Price: ca. € 18,-

Pictures: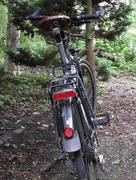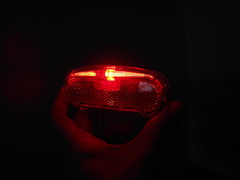 Beam shots
See the camera settings page for more on the setup and settings to make pictures of the beams of taillamps.
Out of a corner (showing how much light is cast upwards, forwards and to the sides) [ F3.9 & F1.8 ]: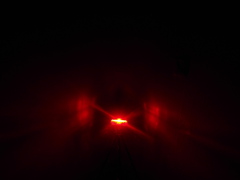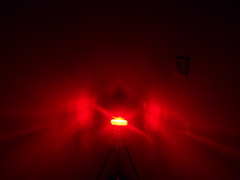 Wallshot (showing the beam pattern):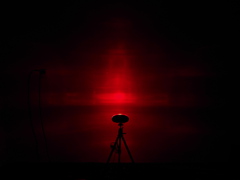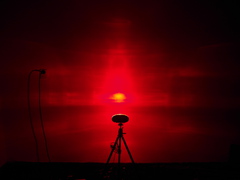 Visibility from various angles (0°, 45°, 90°, 135°) [ 0.5m, zoom x3, F3.5, ISO80, 1/250s & 1/60s ]: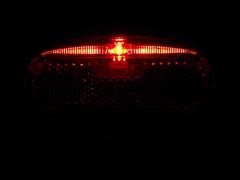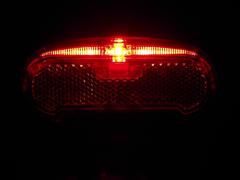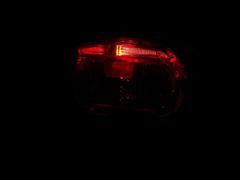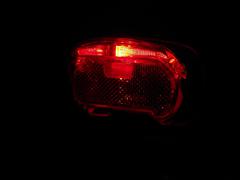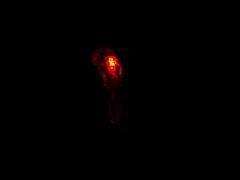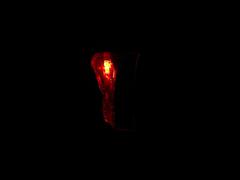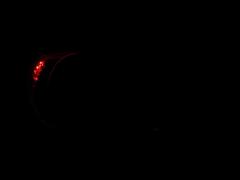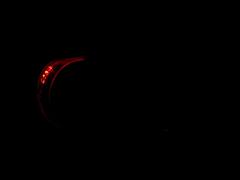 Comparing taillamps
Experiences
Stripe of lines of light similar in style to B&M's Toplight line plus. Nicer than the Toplight flat plus for traffic following you. Also slightly better than Herrmanns' H-track in that respect but not as good as the Toplight line plus. The direct light coming from the LED should be diffused to give a larger emitting area, this direct LED light is not needed for long distance visibility, it only annoys following cyclists.
Annoying for following traffic until which distance?: ≈25m
Visibility: Reasonable.
Visibility by reflection: To be tested.
Ease of connecting wires: Good for 2.8mm plugs.

Design- and thus review considerations for taillamps
See Theory for taillamps.
Conclusion
The Basta Riff steady is poor. It annoys following cyclists up to about 25m, at longer distance it's not so bad. Not recommended.
Response of the manufacturer to criticism?
I sent the manufacturer a message with a question about availability of the Spark steady and that the Riff steady shines unacceptably bright into the eyes of following traffic: web-bericht-axa-2011-9-21.txt (in Dutch, I will add an English translation at a later date). To that I only got the response that the Spark steady for dynamo would not be supplied in NL for a while (doesn't matter to me, I bought my test sample from a German distributor...).
I've not had any response as of end of January 2013...
Last modified: Sun Mar 3 21:53:44 CET 2013