Rear lamp: Spanninga Elips
Specifications:

StVZO approval no: K1320
Mass: 59 g (with nuts/washers).
Size: height 50.1 mm, width: 110.0 mm, thickness 16.1 mm
Light source: 6 red LEDs.
Mounting method: On the rear rack, 50 mm or 80 mm fixed screw/hole distance. Addition Jan. 2019: Sometime in 2018 or perhaps 2017 Spanninga decided to only supply their aftermarket lights that have a fixed mount distance, with 80mm bolt distance. As stocks of distributors dropped, some became unavailable in 50mm, which I first noticed early 2018 with the Vivo, later with the Elips. Why standardise on 80mm? I prefer 50mm as it allows mounting on narrow racks that only have 50mm hole distance.
Cabling/connectors: There are 2 connectors for 2.8 mm female plugs as used on standard double strand wires you can buy from a bike shop, and a plug in thingy to use bare wires.
Construction: Plastic, with 2 black steel bolts fixed in the housing, 2 black steel nuts/washers, bolt distance is fixed at 50 mm or at 80 mm.

Versions: XDS (dynamo/standlight), XB (battery), XE (e-bike up to 36V), all in 50mm or 80mm versions, so 6 versions in total.
Price: ca. € 15,- (€ 17,- for battery, € 14,- for ebike): Addition Jan. 2019: Recommended retail prices increased end of 2018: to respectively EUR 19,- / EUR 18,-/ EUR 16,-, not sure why.

Pictures:
Experiences
Tested from: 2017-1-26
Good, same optics as the Lumiring. Better than in the Lumiring is that the stray light from the LEDs is used to light up the retro reflector which from some angles can be clearly seen, and could help in getting noticed. The light colour, as with the Vivo, is a bit too much towards orange for my taste (The Lumiring was more red, the Spanninga Solo and Lineo are more red too). I will analyse this more the coming days and compare with other lamps.
The bolts and nuts and washers should be stainless steel...
In build quality the Philips taillamps are better, both battery and dynamo versions:
Dynamo version: In the Elips there is no proper support to guide the 2.8mm plugs towards the connector, and it feels more flimsy. It feels as if I could bend the contacts unless I'm careful (which would require a lot of time fiddling to get them back into position if that happened).
Battery version: The battery version of the Elips has a fairly heavy going switch and it is harder to open than the Philips Lumiring.
Addition 2019-2-27: A reader wrote to me with the information that Eneloops don't fit in the Elips XB. The Eneloop pros have, I read on a flashlight forum, a bigger diameter which could be an issue, but the problem is already the length. Stretching the specification has been going on for ages with NiMHs. Most are longer than the original alkalines and NiCads, but in diameter they've also been growing... I saw this with some AAs such as the 2600mAh that came with a ca. 2012 version of the Philips LED bike light (Saferide 80), which didn't fit in some devices because they were too long. You will notice when comparing, that the button part has been shrinking in high capacity NiMHs compared to older NiCads and alkaline batteries. I can't analyse this further at the moment as I can't find my Elips-XB...
Addition 2019-3-10: The reader in question made some pictures to show the problem, thank you for that! Here they are: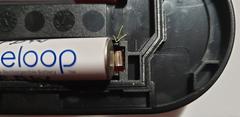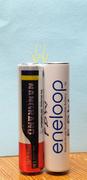 He sent a message to Spanniga that the Eneloops don't fit and their reply was:
The rearlight Elips was an existing light we bought from a brand who stopped their business in bicycle lights. We produce is under our brand now.

When we do our own developments, we take the size of rechargeable batteries into consideration.

I hope you understand the reason better now.
Sometimes I wonder if companies are just taking the piss and give any old reply! The reply by Spanninga is clearly not correct:

The Lumiring is very different in housing in lots of respects. The Lumiring works fine with LR03/AAA Eneloops. The reflector in the Elips sticks out whereas the Lumiring is flat, the Elips XB uses a different switch than the Lumiring-battery, it has different way to open up. See: my review of the Philips Lumiring and have a close look at the pictures. So Spanninga did change quite a lot, the main thing that they didn't change is the original optic.
2019-3-10: My suggestions to make Eneloops fit:
I would try to simply use a sharp wood chisel to slice off a small bit of the excess plastic to make the Eneloops fit. Also possible a Proxxon or Dremel mini drill with a small grinder mounted and remove the excess plastic. If you are not into DIY stuff, perhaps a friend can help. You could possible do it with a sharp kitchen knife or even any small piece of straight metal, heat it up on the stove so it gets hot enough to deform the plastic, then push down on the plastic to slice off a little similar to what you can do with a chisel.
Beam shots
See the camera settings page for more on the setup and settings to make pictures of the beams of taillamps.
Note: I didn't make beamshots, yet. But the beam pattern is about the same as the original Philips Lumiring.
Out of a corner (showing how much light is cast upwards, forwards and to the sides) [ F3.9 & F1.8 ]:




Wallshot (showing the beam pattern):




Visibility from various angles (0°, 45°, 90°, 135°) [ 0.5m, zoom x3, F3.5, ISO80, 1/250s & 1/60s ]:

Comparing taillamps
Design- and thus review considerations for taillamps
See Theory for taillamps.
Conclusion
The Spanninga Elips lamps, dynamo and battery, are good in beam pattern and a lot cheaper than the originals from Philips, but less good in build quality and less good in usability (switch for the battery version, plugging the connectors for the dynamo version). Recommended but I would like to see Spanninga improve them...
Last modified: 2015-1-19 CEST