Rear lamp: Spanninga O
Specifications: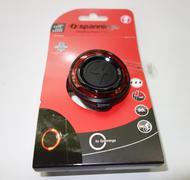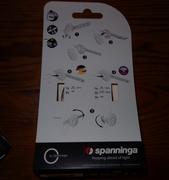 StVZO approval no: K967 (non-flashing)
Mass: 72g (with 2 AAA batteries).
Size: height 65.4 mm, width: 57.9 mm, thickness 28.6 mm (+ mount thickness)
Light source: 1 red LEDs.
Mounting method: On the seat post (there is a fender mounted version called O-guard)
Construction: Plastic.

Versions: battery, for on seatpost. Also available in a version for on the fender.
Price: ca. € 15,-

Pictures:
Experiences
Tested from: 2014-5-6
Ring of light, good light distribution, works on 2x AAA non-rechargeable batteries, I will test AAA NiMH (Sanyo Eneloop) to see how long it lasts on that. Button is hard going and doesn't always register key presses (despite audible click). More to come soon.
Beam shots
See the camera settings page for more on the setup and settings to make pictures of the beams of taillamps.
Out of a corner (showing how much light is cast upwards, forwards and to the sides) [ F3.9 & F1.8 ]:




Wallshot (showing the beam pattern):




Visibility from various angles (0°, 45°, 90°, 135°) [ 0.5m, zoom x3, F3.5, ISO80, 1/250s & 1/60s ]:

Comparing taillamps
Design- and thus review considerations for taillamps
See Theory for taillamps.
Conclusion
Preliminary: I need to do a bit more testing, but, it is comparable to the Sigma Stereo and Mono in case you would want to buy a battery powered seat post mounted taillamp. inferior to those due to the heavy going switch that I needed to use contact cleaner spray and because it's not meant for using rechargeable batteries. I would go for the Mono, probably...
Last modified: 2015-1-19 CEST