Rear lamp: Spanninga Solo
Specifications: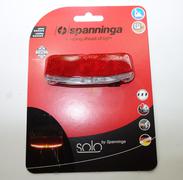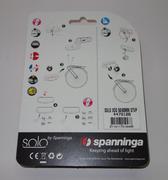 StVZO approval no: K1034
Mass: 31g (with screws).
Size: height 34.5 mm, width: 98.1 mm, thickness 16.7 mm
Light source: 2 red LEDs (1 is used to shine upward/forward).
Mounting method: On the rear rack, 50 mm or 80 mm screw/hole distance.
Cabling/connectors: There are 2 connectors for 2.8 mm female plugs as used on standard double strand wires you can buy from a bike shop, and a plug in thingy to use bare wires.
Construction: Plastic, with 2 steel screws to mount it which can be screwed in the holes at 50 mm or at 80 mm.

Versions: XDS (dynamo/standlight).
Price: ca. € 13,-

Pictures:
Experiences
Tested from: 2014-5-6
Beam shots
See the camera settings page for more on the setup and settings to make pictures of the beams of taillamps.
Out of a corner (showing how much light is cast upwards, forwards and to the sides) [ F3.9 & F1.8 ]:




Wallshot (showing the beam pattern):




Visibility from various angles (0°, 45°, 90°, 135°) [ 0.5m, zoom x3, F3.5, ISO80, 1/250s & 1/60s ]:

Comparing taillamps
Design- and thus review considerations for taillamps
See Theory for taillamps.
Conclusion
One of the best taillamps you can buy. For NL the best one actually, for outside NL with fewer cyclists, the Lineo is a bit brighter and because of it possibly better there.
Recommended.
Last modified: 2015-1-19 CEST