Rear lamp: Spanninga Vena
Specifications: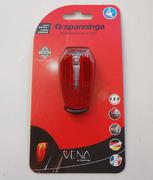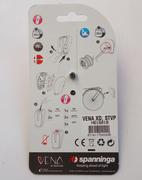 StVZO approval no: K1133
Mass: 27g (with nut).
Size: height 66.2 mm, width: 38.3 mm, thickness 40.7 mm
Light source: 1 red LED.
Mounting method: On the rear rack, 50 mm or 80 mm screw/hole distance.
Cabling/connectors: There are 2 connectors for 2.8 mm female plugs as used on standard double strand wires you can buy from a bike shop, and a plug in thingy to use bare wires.
Construction: Plastic, with steel bolt and washer/nut.

Versions: XD (dynamo),
Price: ca. € 13,-

Pictures:
Experiences
Tested from: 2014-5-6
This is yet another taillamp with crap optics, far too high light density because of a near-point-source of light. I have described this problem in many reviews of taillamps, so briefly: This annoys and even blinds at close distance (depending on surrounding light etc.), it makes distance estimation impossible.
Beam shots
See the camera settings page for more on the setup and settings to make pictures of the beams of taillamps.
From 2014 on I will not make beamshots of any further taillamps with poor optics, it's just a waste of time! So, no beam shot pictures of this taillamp.
Comparing taillamps
Design- and thus review considerations for taillamps
See Theory for taillamps.
Conclusion
The directly visible near-point-source of light means: Not recommended.
Last modified: 2015-1-19 CEST