Rear lamp: Trelock LS820
Specifications: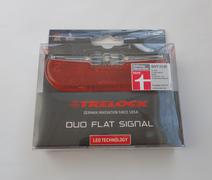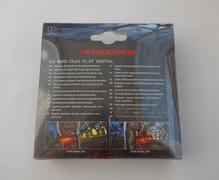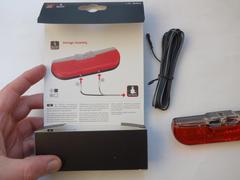 StVZO approval no: K889
Mass: 52 g (with nuts).
Size: height 35.7 mm, width: 113.5 mm, thickness 16.5 mm
Light source: 3 red LEDs.
Mounting method: On the rear rack, 50 mm bolt distance.
Cabling/connectors: There are 2 connectors for 2.8 mm female plugs as used on standard double strand wires. Such a cable to the taillamp is included.
Construction: Plastic, with 2 steel bolts distanced 50 mm apart.

Versions: dynamo
Price: ca. € 40,-

Pictures:
Experiences
Tested from: 2015-2-19
This is yet another taillamp with crap optics, far too high light density because of a near-point-source of light. I have described this problem in many reviews of taillamps, so briefly: This annoys and even blinds at close distance (depending on surrounding light etc.), it makes distance estimation impossible.
This alone makes any further examination of the brakelamp functionality pointless. This is a poor lamp, avoid!
Beam shots
See the camera settings page for more on the setup and settings to make pictures of the beams of taillamps.
From 2014 on I will not make beamshots of any further taillamps with poor optics, it's just a waste of time! So, no beam shot pictures of this taillamp.
Comparing taillamps
Design- and thus review considerations for taillamps
See Theory for taillamps.
Conclusion
Not recommended.
Last modified: 2015-2-20 CEST