Rear lamp: Basta Ray
Note: The company Basta was bought in 2000 by Axa, and they seem to be phasing out the name Basta. For example, the 'Axa Riff' used to be the 'Basta Riff'. I will use the original name.
Specifications:
StVZO approval no: K257
Mass: 73 g (with washers/nuts).
Size: 114 mm width, 66 mm height, 50 mm thickness.
Light source: 0.6 W bulb.
Mounting method: On the rear rack, 50 mm or 80 mm bolt distance (centre to centre). To change the bolt distance you need to open up the lamp.
Cabling/connectors: There are 2 clamp connectors for bare wires.
Price: ca. € ??,-

Pictures:
Beam shots
See the camera settings page for more on the setup and settings to make pictures of the beams of taillamps.
Out of a corner (showing how much light is cast upwards, forwards and to the sides) [ F3.9 & F1.8 ]: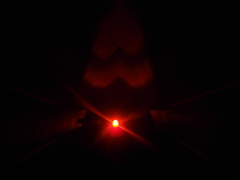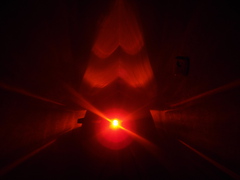 Wallshot (showing the beam pattern):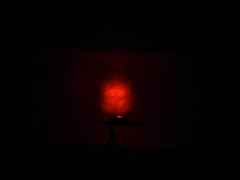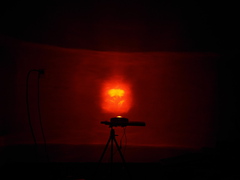 Visibility from various angles (0°, 45°, 90°, 135°) [ 0.5m, zoom x3, F3.5, ISO80, 1/250s & 1/60s ]: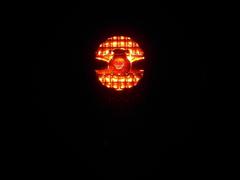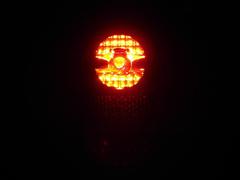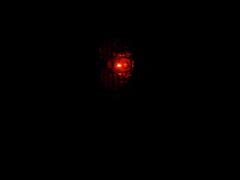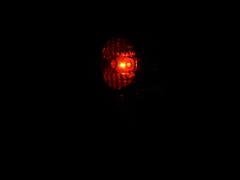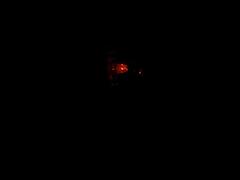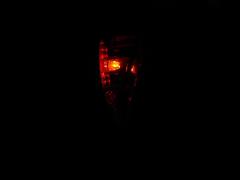 Comparing taillamps
Experiences
Annoying for following traffic until which distance?: Not annoying.
Visibility: Less good than the SP15 but I need to do another test to be sure how much it differs. Even though it gives far less light and has a smaller illuminated surface than LED based taillamps with lines or fully illuminated reflector (Line plus, H-track, Riff steady, Plateo), visibility is not bad. I will test this at long distance soon to be sure how good it is as I didn't get round to it on my first long-distance test.
Visibility by reflection: To be tested.
Ease of connecting wires: Good once you have removed the insulation layer at the end of the wires (that takes some work if you don't have a cablestripper). There is no provision for 2.8 mm plugs.

Design- and thus review considerations for taillamps
See Theory for taillamps.
Conclusion
It's no longer made, but if you find this somewhere for sale, it's a good taillamp though the best LED tailamps are better. They are also more reliable because incandescent bulbs don't last very long... And of course the clamp connectors on the Ray are rubbish. If you have a Basta Ray with incadescent bulb on a bike and want to change to a LED taillamp, then only the best dynamo LED taillamps are actually better, which are Lumiring, Line plus, and Lineo.
Last modified: Sun Mar 3 21:51:50 CET 2013